2021 Planning Series: Are Your Communication Tools Responsive and Engaging Enough?
Part 1: Having a Multi-Channel Approach
Perhaps it goes without saying, but 2020 has been a year of rapid, unforeseen and transformative change.  What bears reiterating, however, is that it's safe to say no one was prepared for the seismic shift that a global pandemic would have on every aspect of our lives.  In particular, we've been thrust into rapidly adopting digital workplace transformation, as many businesses were forced to shift their entire workforces to remote-only, in what seemed like an instant.
And this trend doesn't look to be slowing down any time soon. More than two thirds of companies intend to make the shift to work-from-home permanent, according to a survey from Business Insider.
Budget increases in technology are at the forefront of companies' strategies as they look to be increasingly successful in a remote work environment.  In fact, a Gartner Study published in September 2020 indicated that IT and Technology would see the largest increase in budget across all other business disciplines.
So what does that mean for communication?  In what looks to be a more permanently dispersed workforce, multiple touchpoints will be crucial to ensuring an effective communication strategy.
Due to their low engagement rates, it's no longer just about phone and email.  Now more than ever, businesses are relying on alternative methods of communication to support real-time conversations. Tools like Slack, Zoom, Microsoft Teams, and text messaging have improved the way businesses communicate with their staff, partners, customers and clients because they are much more engaging.  These additional touchpoints achieve better response rates, encourage follow up on other channels and also improve engagement overall as they allow for higher quality, more engaging conversations.
In addition to traditional communication mediums like email and phone, adopting a strategy that utilizes text messaging can help streamline business processes and improve engagement.
What are the benefits of utilizing text messaging/SMS in your 2021 communication strategy?  Here are 3 simple reasons to start considering texting:
SMS is literally everywhere
As we are increasingly a mobile-first society, so too, are our workplaces.  While most adults own a cell phone, not all of them are smartphones with internet access meaning reading an important email may require getting to a computer. Most phones, however, can receive text messages.
97% of American Business Professionals are within 3 feet of their mobile phone 24 hours per day and look at it on average 150 times daily (Source: Hubspot, Morgan Stanley, Technology and Internet Trends).
Real-time response
This has become extremely important.  In today's ever-changing world, quickly disseminating information is paramount.  Such things as crisis communication, instant updates and attention to other critical matters can't wait in someone's email inbox to be read.
The average person takes 90 minutes to respond to an email while a text message takes only 90 seconds to get a response.  In addition, only 20% of people will answer calls they don't expect.  On the other hand, texts are read in 5 seconds on average  (Finances Online).  We talk more about it in a recently published infographic here.
Better engagement
If responses are important to your communication strategy, the viability of text messaging cannot be overstated.  It's about meeting people where they already are: on their phones.
Text messaging gets upwards of TEN TIMES response rate over phone or email, making it a generally more productive form of communication versus other technologies.
Aultman College learned this firsthand as they adopted text messaging into their strategy to be able to communicate faster and smarter. "It's made it fast and easy to communicate and get a response versus emailing the same students over and over with no results," says Deanna Woolf.  She goes on to note, "College staff use it to complement other communication methods, and sometimes, they want us to text over anything else because they know it will get noticed or elicit a response.  Our students are busy with school, families and work. They often can't pick up the phone to talk during our office hours. But they can text us back easily."
As organizations plan for the technology needed to effectively communicate in 2021, text messaging needs to be more than a consideration, but rather a necessity.
If you're ready to add texting to your multi-channel approach, contact us today to schedule a demo.
In part 2 of our 2021 Planning Series: The Case for Mobile First Communication, we'll cover the top ways to maximize your communication strategy to reach people where they already are: on their mobile phones.
Stay tuned!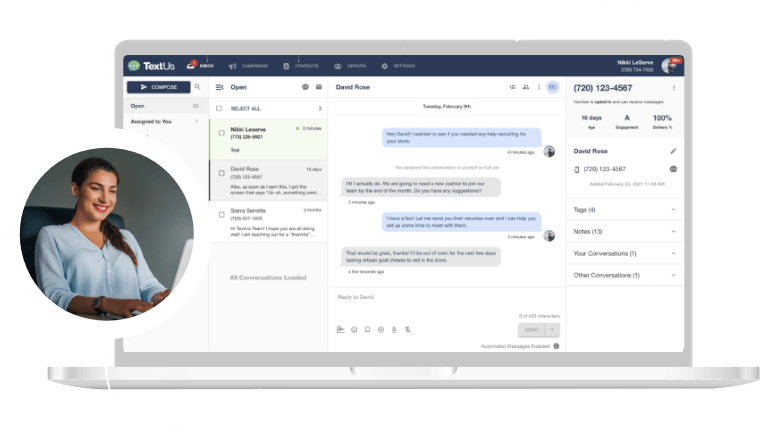 Get a TextUs Demo
Learn how thousands of businesses use TextUs everyday to communicate in real-time.