4 Ways to Future-Proof Your Staffing Firm
Future-proofing means pushing yourself beyond a bottom-line view of your firm. It requires big picture, longitudinal thinking.
What are your clients and candidates going to want in five years? In ten? Where is the workforce headed?
Here are some tips for staying ahead of the game.
Study the candidate experience
Since staffing and recruiting today is all about the candidate experience, future workforce trends will be candidate-led, too.
Gather information from your talent and monitor their satisfaction and preferences in real time.

Survey candidates on what you could've done to improve their experience.

Keep data not just on what activities draw in the best candidates but on how your firm's definition of "best practices" changes over time.
Commit to innovation
They say that the death knell for any business is the phrase it's good enough. Don't commit to the status quo. To stay relevant and ahead of trend (and to attract hot talent), your firm must push to evolve and innovate.
Always ask:
How can we make our clients even happier?

Is there a more efficient/engaging/exciting way to attract candidates?

What new strategies are my competitors using?

How can we create more connections?
Experiment often
Go beyond keeping the industry pulse by becoming a trendsetter yourself. As you generate innovative ideas with your staff, take some time to test them out.
Break up the normal recruiting routine and see what happens:
Host recruiting audition days, where talent can perform an essential function of their job.

Pull out your inactive candidate list and try contacting them in a new way.

Invite a targeted group of passive candidates to a networking picnic or field day.

Test out new ways to gamify traditional skills assessment tests.

Change up your interview format for one pool of applicants.



Like any good experimenter, be sure to keep data on all your efforts. Examine what works and what doesn't and continually head back to the "lab" to try new things out.
Stay connected
To remain on point, to anticipate change, your firm must be plugged into social media.
And not just for sourcing candidates. Any trend that comes down the pike — from the death of the resume to the rise of mobile recruiting — is forecasted first by a handful of people on social media. Listen for the whispers before they become roars. You have a virtual crystal ball at your fingertips.  
Did we miss anything? How does your firm stay future-proof? Let us know on Twitter, Facebook, and LinkedIn.
Looking for current trends to keep an eye on? Check out our rundown of the latest staffing and recruiting trends.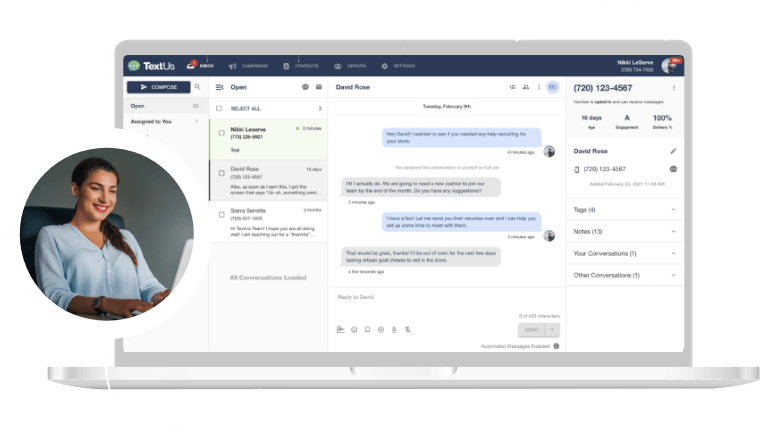 Get a TextUs Demo
Learn how thousands of businesses use TextUs everyday to communicate in real-time.