5 HR Communication Hacks to Boost Employee Engagement
Employee engagement is likely at the top of your priorities list. Not only does it reliably prevent high turnover — it boosts productivity, it keeps your employees healthy, and it improves company morale. So, is the way you communicate with your staff cultivating commitment or driving employees away?

1. Seek employee feedback
As an HR professional, it's sometimes tough to bridge the gap between the bureaucratic needs of your company and the individual needs of employees. When an HR department issues a lot of rules and regulations but doesn't request or respond to employee feedback, employees can begin to feel alienated.
To prevent this disengagement, seek feedback from your employees and really listen. Stay attuned not just to the content of their concerns but to any underlying issues that may be disrupting a harmonious work environment. You may not always be able to give an employee what they are requesting. But you may be able to ease some deeper discomfort by listening closely, acknowledging concerns, and responding authentically.

2. Be concise and conversational
In all likelihood, your team is incredibly busy. For better or worse, we live in an increasingly distracted world, and our attention spans are now shorter, on average, than a goldfish's!
A quick way to lose buy-in is to bore employees with unnecessary meetings or overly long but mandatory messages. So, to honor your busy employees' time — and to maintain their fleeting attention — keep your meetings and messages as concise as possible.
But being brief doesn't mean being overly formal — this can be distancing to employees, too. A warm, friendly tone will draw their attention and make them more comfortable, too.

3. Email effectively
Teams in every industry are suffering from email fatigue. Your employees likely get dozens if not hundreds of emails every day. Email is a necessary tool, but you can keep employees happy by being thoughtful about the emails you send.
Communicate only what's necessary — this will make your employees happier and increase the likelihood of getting a response
Send only to the recipients who need to be on the email — no need for too many cooks in the kitchen
Save decision-making and strategic questions for meetings — this respects people's inbox time and makes meetings more meaningful
Automate regular deadline reminders — this will save you time and help employees field routine communication
Pay attention to timing — avoid overloading inboxes during breaks, vacations, and weekends

4. Pick mobile-friendly tech
Along with being more digitally inclined, today's workforce is more and more mobile. Increasingly, employees' work is heavily dependent on their ability to be mobile — to travel to different cities, to take meetings out of the office, and to respond to business needs away from their desks. Even if you work with an entirely in-office team, they will likely spend much of their breaks, their commute, and other in-between time on their smartphones.
Though 52% of HR professionals believe HR apps on smartphones would increase employee engagement, very few HR departments are implementing the technology. Get ahead of the curve and tap into the convenience, pervasiveness, and efficiency of mobile communication.
Investigate mobile-based recruiting, such as HireWire, Jobr, or Switch.
Harness the power of social media to meet your employees where they already are.

5. Tap the power of text messaging
For concise messages, convenient communication, and easy engagement, consider implementing business text messaging. It's more effective than email and more considerate than a phone call. It fits neatly into your employees' busy lives. It's perfect for reaching on-the-go employees; encourages quick, constant connection; and shows your team you're responsive to how they communicate.
Looking for more communication tips? Check out our 51 Text Messages Templates Your HR Team.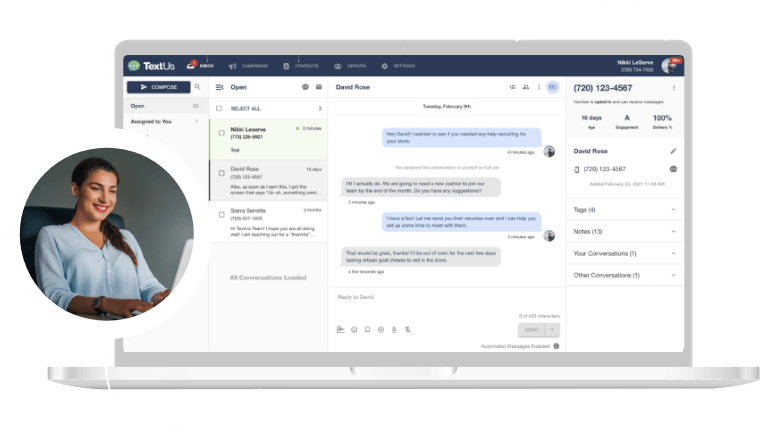 Get a TextUs Demo
Learn how thousands of businesses use TextUs everyday to communicate in real-time.