5 Predictions for Business Communication in 2016
Business communication is evolving at the pace of communications technology, in other words, very fast. Here are 5 predictions for business communications next year.
1. Text messaging will become mainstream.
We still talk about phone calls and emails as "traditional" business communication, and text messaging and social media as "alternative." But that's about to change.
Currently, almost one-third of people would rather text than talk on the phone, and for younger people that number rises to more than half. JPMorgan Chase recently eliminated voicemail for thousands of employees who never use the service because they text, instant message, and connect over social media instead.
In 2016, what is now alternative will become more mainstream as the traditional continues to go the way of the dodo.
2. Companies will focus on accountability and compliance across communications platforms.
In many industries, communications must meet certain compliance standards. Even outside those industries, companies need to maintain oversight of their communications with customers — for quality control, brand image, reputation management, and so on.
In 2016, companies will focus more on bringing accountability and compliance standards to non-traditional forms of business communications, for example, by using a text messaging platform rather than having sales reps text customers using their personal cellphones.
3. More communications will become automated as things start to talk to each other.
Email automation, social media automation, text messaging automation — these technologies allow companies to communicate with more people, more effectively, and on a more timely basis.
Next year, we'll see increased adoption of these technologies as well as others that remove humans from the equation entirely. For example, new appointment scheduling apps can consult multiple calendars, find available times, and schedule appointments automatically. The appointment just shows up on your calendar — you don't have to do anything at all.
4. Currently disparate communications channels will become more integrated and provide a more consistent cross-channel experience.
Although communications technologies are getting better every day, for the most part, they're still separate. We have different programs for email, texting, and social media, and the end user experience is different as well.
The effort to integrate various communications into a streamlined experience is known as "unified communications." In 2016, we'll see it start to really take off.
5. Big data will bring about a rise in predictive communications.
Finally, business communications will move from reactive to predictive. Currently, a major benefit of marketing automation software is that as soon as someone fills out a form on your website, you can enroll them in an appropriate drip email marketing campaign, providing touchpoints over the next several weeks or months.
With big data and predictive communications, you'll be able to predict the behavior of visitors to your website so you can provide targeted messages and offers to them in real time.
These are our predictions for business communications in 2016. What are yours? Share them with us on Twitter, Facebook, and LinkedIn.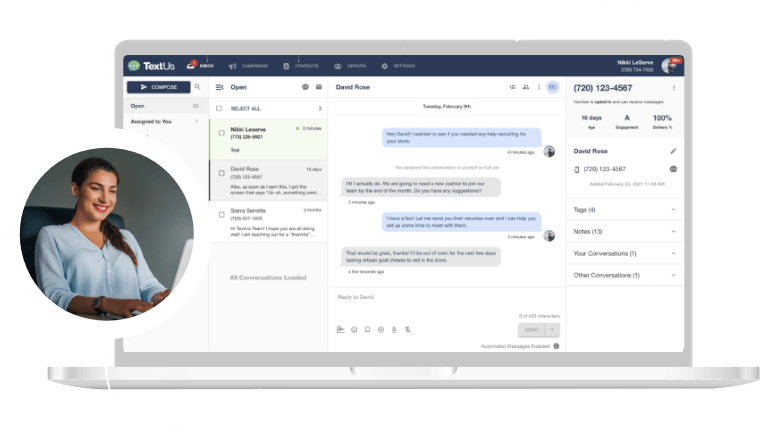 Get a TextUs Demo
Learn how thousands of businesses use TextUs everyday to communicate in real-time.