5 Sales Tools You Can't Live Without
Sales isn't easy — especially today when competitors are around every corner and you are all vying for people's very, very limited time. Fortunately, many tools are available to help you take advantage of every opportunity that comes your way.
Here are five sales tools you can't live without.
Just in case you don't already have HubSpot Sales installed on every device you own….
HubSpots Sales features help you get the most out of your sales emails. It shows you information about your contacts — where they work, your email history, etc. — in your inbox.
For sales, the biggest benefit is email tracking. You can see when someone opens your emails, which provides you with intelligence about when that contact may be interested in your product and when they are reachable. A scheduling and reminders feature is coming soon, which will make email management even easier.

Admittedly, we are partial to this one. TextUs is your sales acceleration superhero. It allows you to engage more customers in less time and boost your lead response rates to an average of 35%.
Not only that, but you can manage multiple conversations at once, schedule auto replies that look like real-time personal messages, and increase customer satisfaction by communicating with clients via their preferred format. The top salespeople are already using text messaging to reach more leads and close more deals — are you ready to give it a try?

In sales, timing is everything. Newsle helps you get your timing right.
Newsle is a LinkedIn program that keeps you up-to-date on important information in your network. It alerts you when a blog or article is published by or about a particular industry or a particular contact, which gives you the knowledge you need to engage in timely conversations with customers. For example, if you see an industry news story that might be of interest to a prospect, you can use it as a reason to send a follow-up email.
Newsle is also an excellent tool for staying current in your own industry.

Rapportive shows you LinkedIn profiles right in your Gmail.
You can use it to research prospects, grow your network, and connect with your clients on a more personal level. This helps build relationships with current customers as well as write relevant, personalized sales messages to prospects.
You've given your sales pitch and negotiated a deal. Now what? The dreaded paperwork!
TinderBox takes the pain out of finalizing contracts by allowing you to easily create and deliver them online, and your clients to sign them electronically. You can also submit and approve changes and use analytics to optimize your contracts. TinderBox also offers tools for creating, delivering, and tracking online presentations and proposals.
---
Also see:
---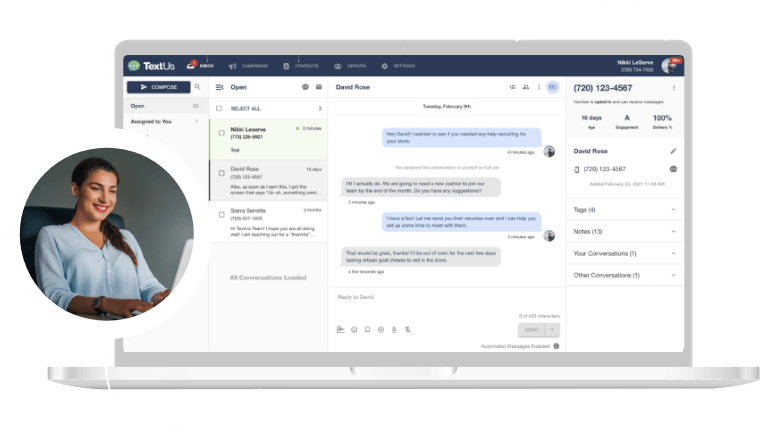 Get a TextUs Demo
Learn how thousands of businesses use TextUs everyday to communicate in real-time.