9 Text Message Templates for Businesses
You're already sending business text messages to reach your target audiences more quickly and effectively. Why not also set up personalized templates? It's faster for you, and it makes your customers feel like a million bucks.
---
To welcome someone to your business
A welcome can make a world of difference. Use it to acknowledge the simple fact of a customer's presence and to set the tone for future interactions.
Hi, [name]! Welcome to [company]. We're thrilled you've found us! Please let us know if you have any questions [link].
---
To remind them of an appointment
For visitors who may or may not be in the habit of checking their voicemail, a text provides a quick visual reminder and a chance to spark an interaction.
Hi, [name]. Just wanted to quickly remind you of your upcoming appointment with [name] on [date]. We look forward to seeing you!
---
To give directions
Make sure your visitors can find you. Sending directions via text saves them the trouble of having to ask!
We can't wait to see you, [name]! Here's a quick map link to our location [link].
---
To send event details
For conferences or trade shows, sending a text with logistical details will make attendees feel cared for. Crowds will flow better and stay friendlier when they know what to expect from their schedule.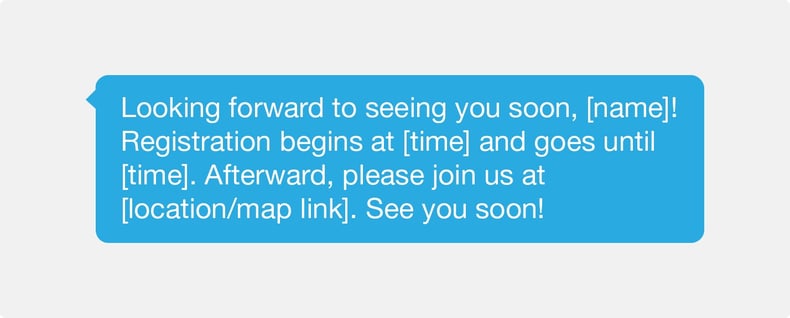 Looking forward to seeing you soon, [name]! Registration begins at [time] and goes until [time]. Afterward, please join us at [location/map link]. See you soon!
---
To confirm an order
You can still send an email receipt, but a quick text to confirm an order makes an immediate, personal connection.
Hi, [name]! Your order is confirmed and on its way! If you have questions, please visit [link]. Thanks for finding us!
---
To send a renewal notice
Adding a link to your renewal notice gives customers a one-stop option for immediate action.
Oh, no! Your subscription is almost over, [name]! Please visit [link] to renew by [date]. We'd hate to lose you!
---
To highlight a special offer
Catch your target audience with special offers and time-based promotions when they're already out and about.
Hello, [name]! Our [contest/giveaway/discount] starts on [date] and goes until [date]. Be sure to check us out for extra perks! You can find more info at [link].
---
To gather feedback
Surveys sent via text are more likely to be answered. Let your customers tell you what they think quickly and conveniently.
Hi, [name]! How was your experience with [company] today? Please text [number or word] to [Phone#] to send us valuable feedback. Thanks!
To thank your customers
Thank-you notes have a proven return rate. Customers are more likely to send you a note back and more likely to bring you their business again, too.
Thanks, [name], for your recent [purchase/subscription/contribution/feedback/visit]! We sure appreciate your [business/involvement]!
---
Looking for more templates? Check out our 101 Text Message Templates.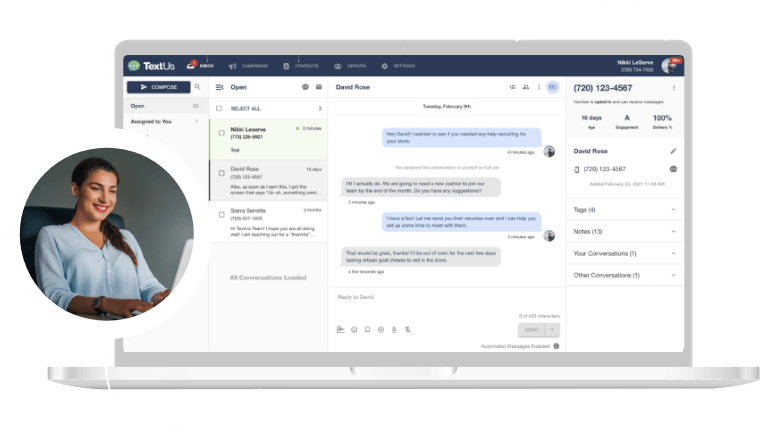 Get a TextUs Demo
Learn how thousands of businesses use TextUs everyday to communicate in real-time.