TaleMed Saves Time, Boosts Engagement with Two-Way Text Messaging from TextUs.Biz
Executive Summary
Healthcare staffing firm TaleMed places travel nurses on assignments nationwide. Due to travel nurses' long hours, TaleMed found it difficult to get responses from them via phone or email. So TaleMed decided to try two-way text messaging from TextUs.Biz. The result? Significant improvements in response rates, which saves recruiters time, improves their close ratios, and increases traveler satisfaction. Joe Bartoszek, TaleMed's Director of Staffing Services, calls TextUs.Biz "absolutely instrumental for our communications with healthcare professionals."
About TaleMed
TaleMed is a leading travel nursing staffing firm that screens, validates, and matches the most talented healthcare professionals in the country with fulfilling assignments in all 50 states. Because of its continued commitment to quality and excellence, TaleMed has been awarded the Gold Seal of Approval from the Joint Commission. The company is headquartered in Loveland, OH.
The Challenge: TaleMed's Recruiters Found Communicating Effectively with Travelers Via Phone, Email Difficult
TaleMed was facing a common challenge in the travel nurse staffing industry: communicating with both current and prospective clients. Travel nurses often work shifts from 7:00 am to 7:00 pm, or they drive between cities during the day, making it difficult for recruiters to connect with them about potential assignments via phone or email during normal working hours.
It takes an average of 37 seconds to make a phone call and leave a voicemail, and an another 10 seconds to send an email. Considering the number of healthcare professionals that recruiters reach out to every day, that adds up to a lot of time spent on communications that weren't getting any response. TaleMed found that pretty much everyone responds to a text message quickly, especially when only a one- or two-word answer is required.
[Need numbers and a graphic here] Time Spent
Avg. Calls/Day by Recruiter * 37 Seconds = ## Time
Avg. Emails/Day by Recruiter * 10 Seconds = ## Time
TaleMed's recruiters had been using their personal phones to send text messages, but the company wanted to monitor their client communications in a more controlled environment.
The Solution: TaleMed Increased Efficiency and Client Satisfaction with Two-Way Text Messaging from TextUs.Biz
Using two-way text messaging from TextUs.Biz, which enables recruiters to monitor dozens of text messaging conversations simultaneously from their computer, TaleMed decreased the time it takes to send a communication by XX% while also increasing the response rate by XX%.
[Similar graphic as above, showing response rates.]
What's more? Everybody loves it. "The trial period was phenomenal" said Joe Bartoszek. "At the end of 30 days, pretty much all of our recruiters said they wanted to keep it." Bartoszek also noted that the nurses love the option of text messaging. "They definitely enjoy it. They can easily look at a few texts and get back to you quickly, and they don't notice a difference between TextUs and a text message from a phone."
TaleMed still uses phone and email communications, but two-way text messaging is now an essential tool in their recruiters' toolbox. According to Bartoszek, "We do business through maintaining a personal relationship with our clients. Texting comes into play once that personal relationship has been established, and TextUs is absolutely great!"
Pull quotes: "The learning curve is very quick, and the texting has been perfect so far. I haven't had any complaints." — Joe Bartoszek
"I liked what I saw immediately, and it was a very seamless transition to begin using TextUs.Biz" — Joe Bartoszek
Would you like to connect with more candidates, improve your response rate, and grow your book of business?
Call or TextUs at 303-442-3223 or Try TextUs.Biz for free.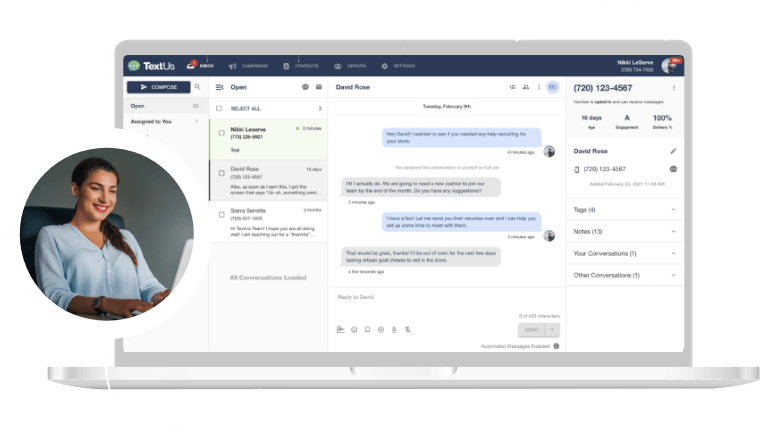 Get a TextUs Demo
Learn how thousands of businesses use TextUs everyday to communicate in real-time.