How to Adopt a Real-Time Communication Strategy to Connect, Engage and Delight Your Customers
When's the last time you waited for something? Maybe you were stuck in traffic, in line at Starbucks, or waiting for a call back from a customer service rep. But, if you're like most people, these moments of waiting have become rarer in your life. 
Instead of just sitting in traffic, people take an Uber so they can get some work done on the go.
Coffee fiends order ahead on the Starbucks app so their drink is waiting for them instead of the other way around.
And more and more, customers are choosing the companies that don't make them wait at all to get help — who connect them with real people, real fast.
Our on-demand economy means that everyone can get whatever they want, almost as soon as they want it. And as a result, the customer waits for no one. 
To keep up with this customer, you need a communication strategy that allows you to be responsive, real, and fast. The old school ways of reaching out through cold calls, mass emails, and delayed interaction just won't cut it in 2019.
That's why we've adopted a real-time communication strategy, built for the Real-Time Era. A real-time communication strategy combines business-class text messaging, cloud voice capabilities, live-chat, and other instant forms of communication to connect at the speed of today's customer. 
Real-time business communication is instant, personal, authentic, and aligned with how we communicate in the rest of our daily lives. We've put together How to Adopt a Real-Time Communication Strategy to help you start more conversations, build better relationships, and grow your business faster, in real-time.
Here's a taste of what you'll learn:
Why adopting a real-time communication strategy is crucial for any business that needs to talk to other humans
How a conversational approach to text messaging helps you connect with anyone, anywhere — in real time
How other messaging megatrends, like live-chat and internal business messaging, can build authentic, instant communication into every facet of your business
Actionable tips to create modern, multichannel workflows tailored to your customer at every stage of their journey with you
How to use our text message templates to start implementing a new real-time communication strategy today
Download the How to Adopt a Real-Time Communication Strategy eBook now. 
Want to chat about real-time in real time? Text us at 303-442-3223 or start a convo about it over here in Drift. 
---

P.S. Join thousands of your peers and subscribe for more content like this.  
Once a month or so, thousands of business pros get our best content. We never bug you; we just send you our latest content to keep you in the loop.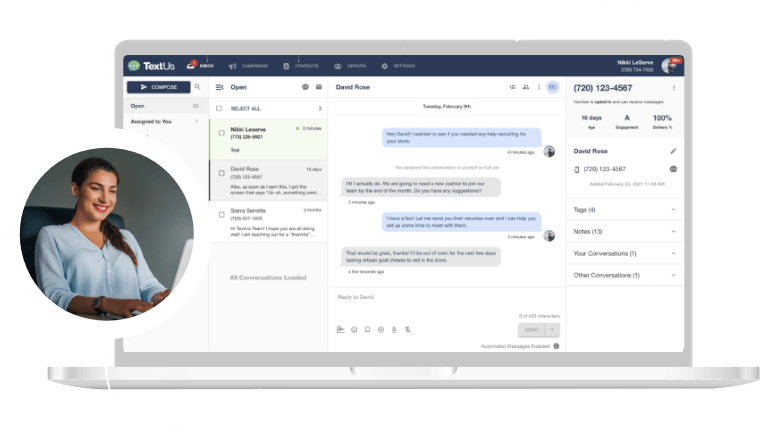 Get a TextUs Demo
Learn how thousands of businesses use TextUs everyday to communicate in real-time.