Business Text Messaging Etiquette: How (and How Not) to Text Customers and Prospects
Every new communication technology comes with its own etiquette challenges, especially when that technology is applied to the business world. Business text messaging is particularly tricky, because while business communications are more formal, text messaging is the ultimate in casual.
Texting is also a very direct line of communication — you are literally dropping a message right into someone's pocket! This is what makes texting so effective. But it's also what can make texting feel intrusive if it isn't done properly.
The secret to sending great business texts isn't really a secret. Like so many other things in life, it comes down to having great manners.
Here are five dos and five don'ts of business text messaging etiquette.
---
Business Text Messaging: The Dos
Do ask permission to text
Not everyone wants to be contacted by text. The only way to know for sure is to ask them.
Do respect your contacts' time and attention
According to research by mobileSQUARED, 90% of text messages are read within 3 minutes of delivery. If you're going to demand your contacts' immediate time and attention, be respectful and don't send them messages they don't want. Here are seven types of business text messages your customers and prospects will be happy to receive.
Do use proper spelling, grammar, capitalization, and punctuation
Sloppy writing isn't acceptable in any medium.
Do keep it short
The limit for text messages is 160 characters. If you need to go beyond that, it's probably better to send an email instead.
Do respond to texts
You want your customers and prospects to respond to you, so respond to them. Especially if they ask a question or need help with something — don't leave them hanging.
---
Business Text Messaging: The Don'ts
Don't use inappropriate abbreviations
"Thx" for "thanks" is ok, but don't use abbreviations like "WTF" or "LMAO." In Business Insider, Jacquelyn Smith and Vivian Giang provide a very good rule of thumb for abbreviations: "only type what you would be comfortable saying out loud."
Don't text at weird hours
Remember that people will most likely read your texts immediately, so don't send them in the middle of the night. Stick to normal business hours.
Don't change appointments or schedules via text
If you're going to be late or need to cancel an appointment, switch venues, or make another change that could affect your contacts' schedule, pick up the phone.
Don't rely solely on speech-to-text or autocorrect
They often get things wrong. Avoid embarrassment by double- and triple-checking every text before you hit Send.
Don't call
and
email
and
text
and
…
It's common to both leave a voicemail and send an email. But unless there's an emergency, don't leave a voicemail and send an email and send a text. That's just annoying.
Text messaging can be a huge boon for your business. These tips will help you do it right.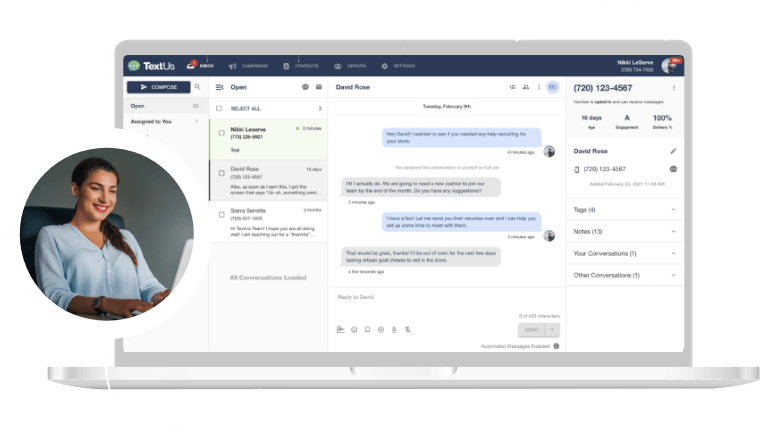 Get a TextUs Demo
Learn how thousands of businesses use TextUs everyday to communicate in real-time.