Business Texting Rules & Regulations: With Great Power Comes Great Responsibility [Update]
Of all the forms of business communication, text messaging is the most effective and the least polluted.
While new technologies, such as TextUs, bring great opportunity and value to our customers, there are some that over-use this powerful capability and cause problems for those who use business texting more thoughtfully.
Twilio and TextUs are under the same scrutiny, as are all NUVO service providers, and we take this responsibility very seriously. It is our mission to simultaneously comply with CTIA Guidelines, deliver the ability to use text messaging to do business more efficiently, and educate our customers on the best practices to do so.
We want you to know that TextUs is constantly monitoring the changes being made by the carriers with regard to both spam filtering and F.C.C. regulations.  The results of our due diligence will be that you will benefit from TextUs being an advocate for our industry, but also a partner in communicating to your teams the best practices that will achieve the best results possible.
There is no other business-class text messaging provider in the industry that delivers the user-experience, customer service and important information necessary to help our customers succeed.
We will continue to strive to provide the best features, training and deliverability rates possible each and every day.
As always If you have any questions we're here to help! You can text us at 303-442-3223 or email support@textus.com.
A recent letter from the V.P. of Regulatory Affairs from the Cellular Telephone Industries Association (CTIA) to the F.C.C. specified that Network Unaffiliated Virtual Networks (NUVOs) like Twilio must be heavily monitored by the carriers in order to reduce text spam.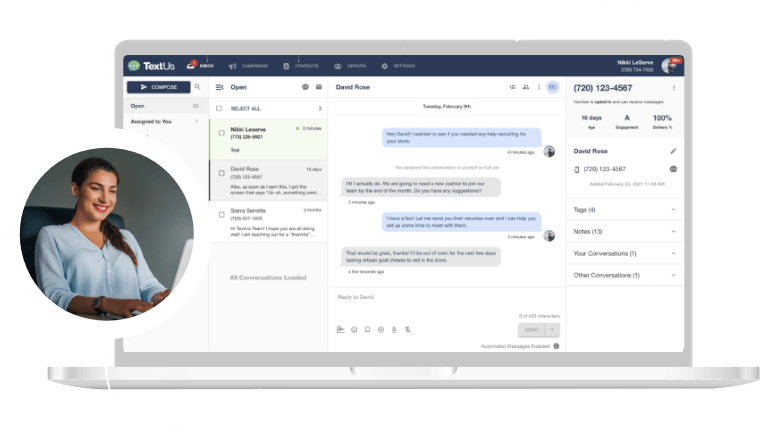 Get a TextUs Demo
Learn how thousands of businesses use TextUs everyday to communicate in real-time.