Case Study: SMS for Business – Short Codes vs Long Codes
We've all gotten texts like this before.
Shortcode text: Win a brand new Porsche! Text VROOM to 27272!
Even if you're into the idea of driving around in your new Porsche, you probably don't look forward to getting these texts.
Companies tell us again and again: We tried text messaging and it doesn't work!
But, most of the time, they've tried short-code text messaging — mass, impersonal, one-way communication — like the text above.
Long-code text: "Hey Michelle, we are scheduling interviews for the CNO position. Would 9, 12, or 3 work best for you on Friday?"
There's a better way. Long-code text messaging is personalized, directed, two-way communication.
Long code is the ideal form of business texting for your sales team.
Thinking of adding texting to your business communication strategy? Long codes and short codes are as different as cell phones and pagers. Let's break it down.
What is short-code text messaging?
Five- or six-digit numbers used for texting in high volume
Good for sending promotions, alerts, and offers
Customers can't communicate back in any meaningful way
Automated keywords only option for response
Shortcode text: Want $10,000? Text WINWIN to 85558.
Response: "STOP"
Shortcode automated response: "You have been unsubscribed from I Like 2 Win."
No wonder your text messaging campaign didn't get results!
---
Mass marketing is dead. Impersonal, generalized communication simply doesn't work anymore. Today's customers expect valuable content with a personal touch.
---
What is long code text messaging?
10-digit number that looks like a traditional phone number
Tied to a text-enabled phone line, routed through a phone or an app on your computer
Use it for texting, voice calls, and more
---
Firms use long-code texting to connect with their clients in a meaningful way.
---
Face-off!
Long Code vs. Short Code
Feature
Long-Code Texting
Short-Code Texting
Communication 
Two-way personalized communication
One-way mass communication
Phone number
10-digit number, similar to a traditional phone number

Regular business phone number can be text-enabled

5- or 6-digit number

Regular business phone number cannot be text-enabled

Set-up
Set up is quick and easy, and you may up and running with a long code number in as little as four hours
Set up to run a short code campaign is lengthy, usually four months, and requires approval from multiple carriers
Price
Usually less than $100 per month
$500 – $1000 monthly leasing fee, plus additional messaging fees and monthly keyword fees
Recipient fees
End user charged only their standard messaging fees
End user may incur additional fees, including recurring monthly charges
Reach
Usable across wireless carriers

International capabilities

Approval at the discretion of individual wireless carriers; approval process lengthy

Use limited to the country of origin; each country in a campaign requires a unique number

Capabilities
Use the same phone number for voice calls, fax, and text
No voice or fax capabilities
Convenience
Clients can call the number you text them from
Clients cannot call the number you text them from
Longevity
Purchased for the long term and owned in the same way a company owns any telephone number
Leased for at most 12 months before renewal is required; shared short codes can simultaneously be used by other companies, such as your competition 
---
Set-up
Setting up a short code: Notoriously difficult
Request a short code from Common Short Code Association (CSCA).
Commit to paying a leasing fee for three, six, or 12 months,  just to register your short code number, regardless of whether any wireless carriers approve your campaign
Submit your campaign proposal to each wireless carrier, who may accept or reject your proposal, it's up to them
Can't text any clients whose wireless carrier rejects your plan
Get campaign itself vetted by the CSCA
Process usually takes four months
Setting up a long code: Super easy
Fill out a form online or make a call
Be texting in as little as four hours
---
Pricing
Short codes: Expensive
$1000/month for a dedicated short code number
$500/month for a shared short code you might share with your competitor
Often additional per-message and keyword fees
Long codes: Affordable
$20/month – $200/month
Usually unlimited texting
---
Leasing and running a three-month short-code campaign can cost more than an entire year of unlimited long-code service.
---
Use
Short codes: Mass blasts. Opt-in required.
Promotions and deals
Bill reminders
Emergency notifications
Weather updates
Traffic updates
Security notifications
Sweepstakes and contests
Voting
Long codes: Personalized communication. No opt-in required.
Sending appointment reminders
Confirming appointment times
Gathering customer information
Providing targeted, valuable content
Informing clients of opportunities
Troubleshooting product or service problems
Customer service chats
Clients can use long code to:
Ask product questions
Update contact information
Inquire about service changes
Confirm appointments
Notify of late arrivals
Solicit sales advice
---
Two-way texting is what customers and clients are used to. It's as convenient as personal text and provides the professionalism of email.
---
Short codes: old school communication.
In our recent study of staffing and recruiting firms, we found that slow-growth firms use text messaging in a short code way: for mass, impersonal blasts.
Long codes: business communication of the future.
Fast-growth firms use business text messaging in the long code style: personalized, one-to-one, value-added business communication.
Want more on business texting? Check out our Definitive Guide to Business Texting.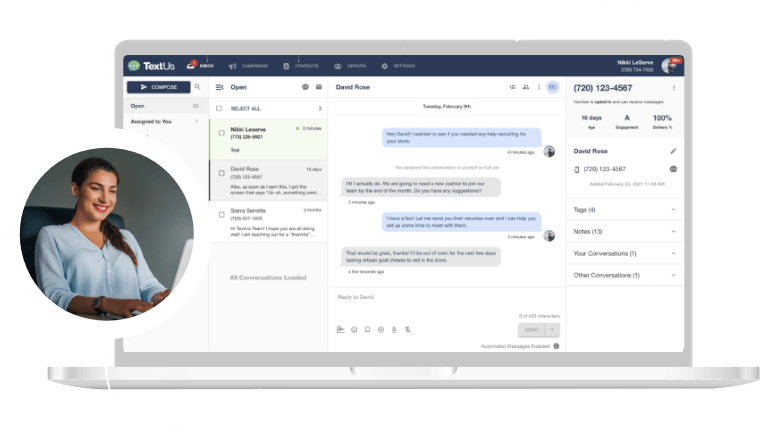 Get a TextUs Demo
Learn how thousands of businesses use TextUs everyday to communicate in real-time.