Customer Service: The TextUs Way With Casey Bernart, Director of Customer Experience
We have three goals for making our customer's experience the best possible at TextUs:
Be responsive
Be kind
Be authentic
In other words: we're human. And we remember that everyone we connect with is human too.
There's this idea that you have to fake a smile and pretend to care to get through a day of customer service, that the connection doesn't matter and interactions will hopefully end as quickly as possible.
We know that it can be different — really.
We have a goal to reply to our customers within 5 minutes, even if it's just to let them know that we've received their request. The worldwide response average is 24 hours, but we never strive to be average.
We also thrive on our customer's feedback. Any feedback or feature request that we receive is tagged and popular requests are sent straight to the development team. Tons of our innovative new features have originated from customer suggestions.
No matter what the issue may be, we listen to our customers. And by listen, I mean actively listen, not just rush through the conversation and forget about it when we're done.
We keep our customers updated every step of the way, even if we're just in waiting mode.
We don't want anyone to feel forgotten, pushed aside, or in limbo. We want our customers to know that we're working promptly and thoughtfully to resolve their issues.
All of this comes from the top for us. When I was hired two years ago, I was floored by how quickly I was listened to and actually heard. I wasn't told, "Here's your work, go do it." I was asked what I would do differently and how I could make our processes better. My input was valued and taken note of immediately.
There was an openness and transparency from the moment I stepped in the door.
I had never experienced that at a job before and I love how it reflects in our customer relationships. It's fascinating how this philosophy has transferred beyond my working life. I've noticed that I'm more positive, more open, and more genuine with everyone that I text, even if it's just a Craigslist seller or my dentist's receptionist.
We tell our customers to text conversationally to avoid sending messages that look like spam or appear robotic. I've discovered that when I approach texting, no matter who the recipient is, in a sincere and conversational way that I get more meaningful responses from what used to be forgettable conversations. No interaction is a throwaway.
Oh and also check out our latest music playlist series! TextUs Music Presents "Electro Essentials" – Volume 2 of our music playlists series brought to you by the TextUs team.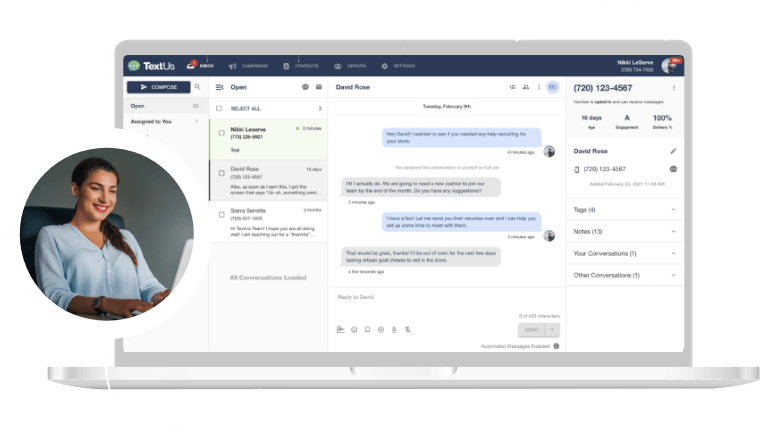 Get a TextUs Demo
Learn how thousands of businesses use TextUs everyday to communicate in real-time.