Enquire Solutions Partners with TextUs to Bring Industry-First Text Messaging Integration to Senior Living
Fastest-growing senior living CRM joins forces with leading two-way texting platform to power faster, more meaningful communication
DENVER, CO, MAY 9, 2016 — The more responsive a senior living community is, the more successful it will be in securing qualified leads and making strong connections with future residents. To increase response rates and facilitate the fast communication necessary in today's competitive market, Enquire Solutions has partnered with TextUs, the leading business-class texting platform. This integration with the EnquireLEADS CRM will give senior living communities a new, powerful way to connect directly with prospective residents and their families.
TextUs President Ted Guggenheim commented: "Seniors are one of the fastest-growing demographics of text users. Nine out of ten Baby Boomers and seniors over 70 who have smartphones text in a typical week. This makes texting an untapped resource for communication in the senior living industry. Only about 1 in 3 emails are ever opened, while 98% of text messages are read, usually within minutes of delivery. Just imagine the impact of tripling the number of messages that reach your leads."
Lucas Hayes, president and CEO of Enquire Solutions, said, "Text messaging will boost both the quantity and the quality of conversations senior living salespeople have with prospects. Think of all the practical uses of this tool. With a quick text, you can invite leads on tours, communicate about events, and confirm visits. You can easily connect with families on an ongoing basis, regularly checking in on them and their evolving needs. This partnership will give senior living communities an innovative way to speed connection and communicate meaningfully with their potential residents."
To learn more about how Enquire Solutions helps senior living communities make quality connections faster, visit www.enquiresolutions.com.
About Enquire Solutions
Enquire Solutions is the fastest growing CRM and call center solution for the senior living industry. Enquire designs and implements customized solutions that support your community's onsite staff. Our vision is to improve the experience for prospects and family members with our customer service centric products. Our cutting-edge analytics also provide the executive team insight into the sales process and marketing efforts. Visit www.enquiresolutions.com and connect with the company on Facebook, Twitter, and LinkedIn.
About TextUs
Headquartered in Boulder, CO, TextUs is the leading business-class text messaging platform, changing how businesses communicate with their customers and leads. With eight times the response rate of traditional communication channels, TextUs empowers business teams to work smarter and faster. Visit https://textus.com/partners/enquire-solutions/ and connect with the company on Facebook, Twitter, and LinkedIn.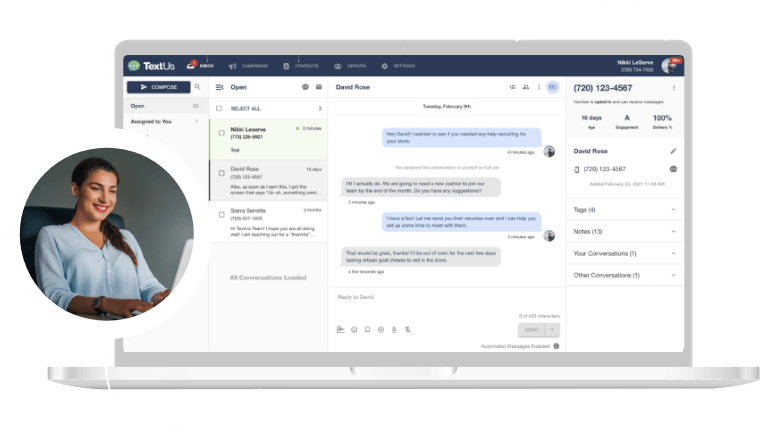 Get a TextUs Demo
Learn how thousands of businesses use TextUs everyday to communicate in real-time.