Fastest-Growing Staffing Industry Executive Interview: Harry Youtan, Group Managing Director, Americas, Phaidon International
Harry Youtan, Group Managing Director of Phaidon International's Americas division, likens his company's culture to a rocketship that propels internal and external employees alike into lasting, mobilizing careers. How do they do it? Read on.
Why did you join Phaidon International?
Since 2004, we've grown into an international business with just north of 400 staff across North America, Europe, and Asia. We're uniquely balanced in our approach. Our business is permanent-recruitment centric: we operate at about 80-89% permanent staffing and the rest is contingent.
There's always going to be a need for highly skilled staff to do highly skilled jobs. We take a very proactive approach to sourcing individuals. We also use a large and seasoned network of individual candidates and key into the factors that will create long-standing relationships. In fact, 77% of our business is on repeat, a stat that shows the strength of our client buy-in.
What were the main factors that drove your success over the last year?
We've been successful for a few reasons.
Our business model is strong. We look to create long-standing, strategic relationships with clients. Our growth is 99% organic, and our recruitment is quite aggressive. We are shaped by our core values in all the talent we pursue: loyalty, character, and ability. As a result, our service, delivery, and speed are much better than our competitors.
We are not trying to be the master of everything. We operate within thin, deep verticals (financial, energy, technical, and pharmaceutical services), so our knowledge is quite a bit higher than our competitors.
We also make sure that our employees remain very engaged — we have only a 3% attrition rate. We tend to hire motivated, driven graduates who want to work in a sales environment.
We also look to build personal relationships with candidates, to create not just employees but stakeholders. We reach out to our candidates in current roles at least once a month. So, when and if they do start looking for another role, they turn to us. The candidates who we place permanently are our biggest proponents.
What are your biggest day-to-day challenges?
In general, the increase in MSPs and RPOs makes them a more significant source of competition for us. They are constantly trying to pull business from recruiters. So, we focus on ensuring that our verticals are very thin and desirable.
You have to be dynamic and innovative to thrive in our business. The sought-after skill set changes rapidly over the space of just a few years. We seek not to diversify our focus but instead to continually evolve.
Our other challenge is technology. As the result of increased recruitment technology like LinkedIn, companies can go direct, and candidates are being picked up quickly. We want to scale and we want to scale quickly, so we always need internal talent. Sourcing the high quality of people who we want to hire is always difficult.
How would you describe your leadership style?
I think that in recruitment in general, there's a tendency for leaders to choose a more dictatorial leadership style. I don't believe that style works for the business we operate in or for the world of recruitment.
Instead, I focus on coaching. We show people the way and coach them to be what we need. We work with people rather than through them and model the loyalty we want to create in our consultants.
What inspires your team?
Our consultants view us as a rocket ship. If you are offered a seat on a rocket ship, you don't ask which one, you just get on. There's a general consensus among the people who we hire at Phaidon that we offer very attractive mobilization and global opportunities.
In terms of engaging with candidates, we operate at a very high level. Each month, we hold a meet up to educate candidates around industry practices. For example, we've focused on the unique challenges women face in tech industries, hiring veterans in finance, and hiring diversity in pharmaceuticals. We tackle topics that we want to be known for and that we want candidates to know about.
What do you think sets your company apart?
We have a clear vision and we strive to be inspirational for all of our employees. Phaidon truly is a rocket ship that moves forward with incredible speed and clear vision every day.
Along with that, I really work with the best people in recruitment. The talent we have is unparalleled – they are always striving for bigger, better, more. To have that exist across all 150 consultants is a wonderful thing. To see everyone moving in the same direction every day is incredible.
About Phaidon International
Phaidon International is a global staffing group with 8 micro-specialist recruitment brands. They help organizations identify, attract, and secure the best talent for their requirements across 4 key market verticals: Financial Services, Energy, Technical, and Professional Services.

Since Phaidon was established in 2004, the group has enjoyed a compound annual growth rate in excess of 30% year on year, achieving over a decade of profitable growth. Since inception the business rationale has been to anticipate and then serve industry sectors which depend on and value rare talent. Today they are proud to deliver excellence to clients in over 60 countries through 8 niche brands who have won over 54 independent awards.
Want to become a fast-growth firm? Check out the 2016 Staffing Industry Sales & Marketing Communication Benchmarking Report to learn how fast-growth firms do it differently.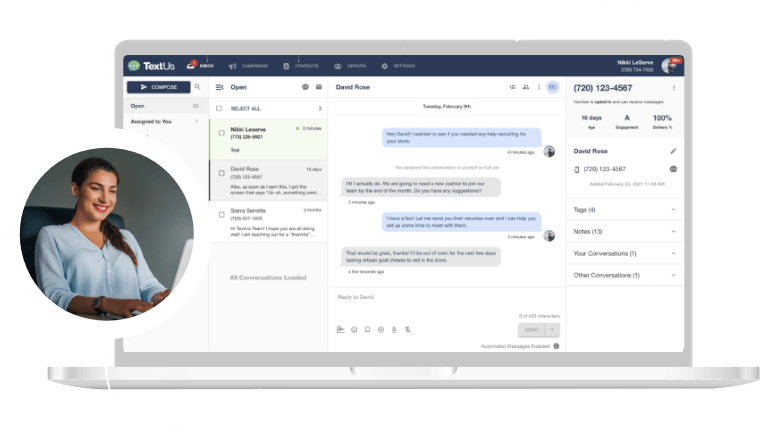 Get a TextUs Demo
Learn how thousands of businesses use TextUs everyday to communicate in real-time.