Get Rid of "No Show" Appointments Once And For All
Your time is valuable! There's nothing worst than waiting for a client to show up only to find out later that they forgot their appointment or something came up last minute and they weren't able to make it in. Being stood up not only means your time was wasted, but it also means money wasn't made. No matter what professional environment you're working in, it's not easy to guarantee your clients will make their appointment.
With life moving at a faster pace, voicemails are being left behind. While you may listen to your voicemails a couple times a day (or once a week!), it's likely you read your text messages immediately! Well, you're not alone and chances are your clients are the same way. By reaching out with confirmation text messages, you insure that the message is being received! Better yet, if your client is stuck in a last minute meeting or running late at another obligation, they can instantly connect with you to let you know. This gives you time to adjust your schedule and fill in the gap with a last minute client (or lunch date!).
The growing text message communication trend is extending into business and daily workflow, why not allow your clients to take advantage? By using TextUs.Biz, your clients can reach you by either calling your texting your business phone number. No need for your clients to store a separate number just for texting. This leaves your personal number, well, personal!
Here Are Our Tips For Preventing "No Show" Appointments:
Send a confirmation text message when they book their appointment. When your client books their appointment is a great time to take the opportunity to let them know about your texting option! Make sure to ask their permission. Send them a message right after booking so they have an immediate record of the appointment time and date.
Send out a confirmation text message 2 days before the appointment! Your confirmation text message should include the basic appointment information: the time, date, who their appointment is with, etc. as well as a prompt to confirm. Including a simple prompt such as, "Please respond to confirm your appointment."
Remind them they can text you cancellation notices as well as make any changes to their appointment!
Making communication as easy as possible will help keep that two-way conversation open and reduce the chances of a "no call, no show" appointment. If your client's child gets sick and has to go to the doctor unexpectedly, chances are the last thing they're able to do is make a phone call to cancel their appointment. Sending a text from the waiting room? Very possible! Make it easier for your clients and yourself, start texting!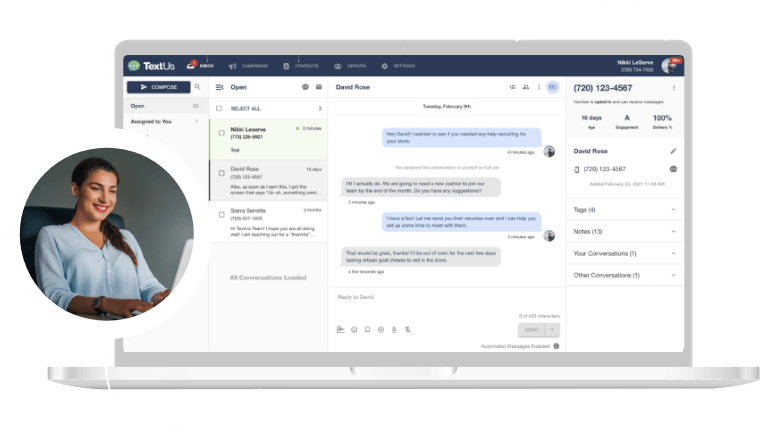 Get a TextUs Demo
Learn how thousands of businesses use TextUs everyday to communicate in real-time.