Getting and Keeping in Touch with Clients in a Changing Technical World
"Adapt or die" is, perhaps, the most important business aphorism of our time. Every industry, market, and mode of communication is changing more rapidly than ever before. To thrive, your company must change, too.

Here's how to get and keep in touch with your clients in this changing technological world.
---
Be an early adopter.
Another on-point motto for today's business world is "the leader who hesitates is lost." If you hang back and wait to see which technological advances take hold and which fall by the wayside, you're setting your business up for failure.
A Harvard Business Review study showed that 64% of companies that are early adopters report they top their competition. What's more, 20% of these pioneering companies have 30% year-over-year growth, while slow adopters are more likely to show no growth whatsoever.
One innovator in the study said, "Our goal is not to worry so much about the competition but rather to worry about staying ahead of a curve, so we're constantly innovating. We're constantly talking to our clients about their value needs and striving to fulfill them with a product."
Taking on new communication technology is especially beneficial for driving growth and providing for client needs. Businesses today are built or broken on their communication strategies. By being an early adopter of innovative ways to be in touch, you'll improve your chances of getting your audience's attention.
Master the follow-up game.
As technology for staying in touch evolves, so should your follow-up strategy. There are a few tried and true tenets, though, that you should stick to no matter what:
Give a little (or a whole lot).

The best thing you can do to land clients and get them to keep coming back for more is to give them what they need. Make sure your follow-up is valuable to them. Instead of another self-involved sales pitch, give them interesting information, strong research, or thoughtful answers to the questions they've been grappling with.

Respond rapidly.

Conversion rates improve by

391% over average if a lead is contacted within the first minute after inquiry

.Your prospects and clients move quickly — you have to, too. Drill into your team that they need to respond to all inquiries, leads, and requests, ASAP.

Make it personal.

Your audience hears from a lot of people in a single day —

120 on average

. In the same way you perk up when you hear your name spoken in a busy room,

you get people's attention in your correspondence when you speak to them directly and make it personal

.

Keep it simple.

No one has time to read a novel plopped down in the middle of their workday. Keep your correspondence with your clients and prospects brief, simple, and straightforward.
---
Want more on upping your follow-up game?
---
Stay on the pulse.
In this market, you can't tap out for a minute. You and your team need to remain hyper-focused on the behaviors, values, and needs of your clients. The biggest changes often start as a whisper — an article on a small business blog, some back-and-forth on Twitter — before they become a roar. Keep your finger on the pulse of your clients' needs so you can anticipate them.
Survey your clients often.
The easiest way to understand what your clients and prospects are thinking about is to ask them.
Send out quick surveys and polls often. Be creative with your questions — don't just follow the same format quarter after quarter.
Ask questions that grow out of what you are most curious about.

Ask questions whose answers will help you foster connection.

What challenges do your clients face?

What values drive your clients' choices?

What makes their lives easier?

What brings them joy?

Refine your questions around what's most important so you don't generate a lot of useless information or waste your clients' time.

Publish the results of your surveys to help continue the conversation and provide value to your clients.
Read industry blogs and magazines analytically.
In our information-overload era, it's easy to let the articles you read just wash over you without really grappling with them or situating them within larger trends. Look at both what articles explicitly cover and what bigger-picture patterns they may reveal. These patterns can help you anticipate what's around the bend.
For example, if you start to notice that more and more people are mentioning interoperability, spend a little time researching it in more depth. Is it poised to be the next big thing for SaaS companies? Start investigating buzz as early as you can and tracking how important rising topics are to your clients.
Talk to people outside the conference room.
When everyone is focused on the meeting agenda, it's difficult for top-of-mind topics to come up organically. Open-ended check-ins and chats allow you to go off-script and see what folks are thinking about outside of big strategy initiatives and day-to-day tasks. Touch base regularly and informally with your team, colleagues, and clients to stay aware of the kind of quiet, incremental change that often drives business evolution.
---
---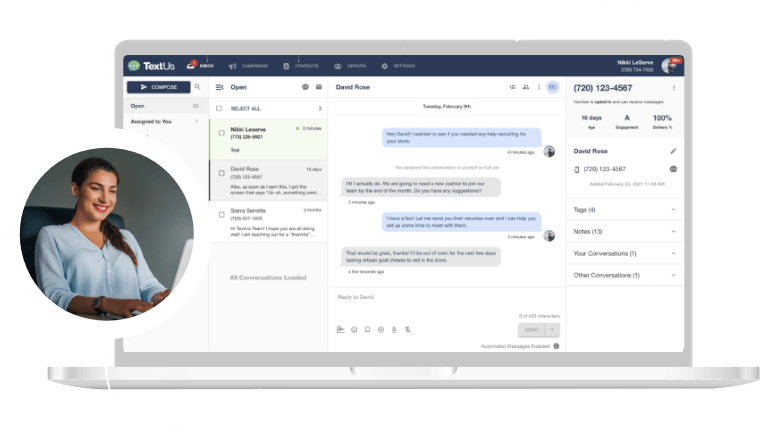 Get a TextUs Demo
Learn how thousands of businesses use TextUs everyday to communicate in real-time.