How Big Data Can Boost Your Staffing Game
Today, nearly everything we do — from walking across the street with a cellphone in our pocket to researching a product online — generates data. In many ways, we are as defined by our 1s and 0s as we are by our DNA. And, just like info about DNA can predict our eye color and blood type, businesses can glean surprising information about employees' strengths and weaknesses from their data. How can big data boost your staffing game?
What big data can do for you
Much e-ink has been spilled in industry blogs about the power of big data in hiring, and for good reason. People analytics, or the use of big data to inform hiring and staffing decisions, has the potential to eradicate implicit bias, old-school nepotism, and outdated notions of what makes a good employee. This helps you hire better-fit talent, reduce turnover, and increase revenue.
Finding better candidates
Traditionally, recruiters have valued a prestigious education, good grades, and other markers of academic success to predict strong candidates. However, companies like AT&T and Google have crunched the numbers and found that ability to take initiative is a far better indicator of strong performance than an impressive academic pedigree.
What's most valuable in a client varies from position to position. An in-depth study of health care workers found, for example, that strong community leadership was positively correlated with job success for acute care nurses but not for nursing home caregivers.
Predicting when talent might be ready for a job change
One of the main hallmarks of big data is its ability to accurately make predictions by combining insight into human behavior with solid information about a group of people. For example, people analytics can help you locate passive candidates in your area who currently have a long daily commute. You can use this data to add the enticement of a shorter commute to your recruiting pitch.
Quantifying diversity
Concerns are growing over implicit bias in hiring and low diversity rates in many companies. Data-driven decisions make it easier to avoid these pitfalls. Since staffing agencies focus on human capital, it's crucial that they make every effort to create diverse talent pipelines. Google used people analytics to root out the underlying cases for lack of diversity. They then used that information to make structural changes toward diversification.
Reducing employee turnover
Xerox has become legend for using data analytics to reduce employee turnover. The company hired analytics firm Evolv to create a profile of the ideal call center employee. The results were a good lesson in trusting data over traditional wisdom. While previous experience was not associated with greater job performance, a criminal record, among other things, was. The company used the profile in making call center hiring decisions and decreased turnover by 20%.
Increasing employee engagement
Big data can be used to track employee happiness and satisfaction. Companies may intuitively understand that higher employee engagement leads to smoother functioning. Those using analytics have drilled deeper to find that increasing engagement can increase revenue.
For example, Best Buy found that increasing employee engagement by just 0.1% increased revenue at a single store by $100,000. By quantifying the happiness quotient in specific departments, Sysco increased their retention rate from 65% to 85%. This saved the company nearly $50 million in training costs alone.
What you can do right now
HR organizations that use people analytics report a 30% increase in stock returns over the S&P 500 standard.
However, as powerful as it is, people analytics is still in the early stages of adoption by staffing agencies. Though 86% of organizations report that people analytics is a priority, only 46% have dedicated people analytics in place.
Implementing people analytics doesn't happen overnight. Here are four steps you can take right now to help your staffing agency on its journey to becoming more data-driven.
Start small
Don't overreach with your initial foray into data. Analytics can be seductive and a big sink of time, energy, and money, especially if you overreach. Start with a project that you can address with existing resources. Consider it a test run for larger analytics initiatives in the future.
Start asking questions
Start with a specific problem or question. Would you like to increase your talent pipeline? Have you noticed a high turnover rate with employees placed in a specific industry? Do you need to shorten your sales cycle? Explore the most pressing issues you have and determine how better data might lead to better solutions.
Gather your in-house data
If you are committed to becoming more data-driven in the next few years, get your digital ducks in a row right now. Take a good look at your current in-house data and see if it can be more centralized and streamlined. Consider all sources: candidate and client databases, website analytics, and social media metrics.
Evaluate if you are taking in enough data: are you gathering valuable demographics from all your candidates? Are you monitoring the ebbs and flows of your staffing sales cycle? Do you need more robust website monitoring? Taking a thoughtful look at the source and quality of your current data is a strong step in the process of becoming more data focused.
Don't get bogged down by the data
Use the data to tell a story. Keep your eye on the larger picture, the problem you need to solve, the clients you want to engage, and the candidates you want to land. But don't lose sight of the humans represented by all those numbers.
How has big data helped your staffing game? Let us know on Twitter, Facebook, and LinkedIn.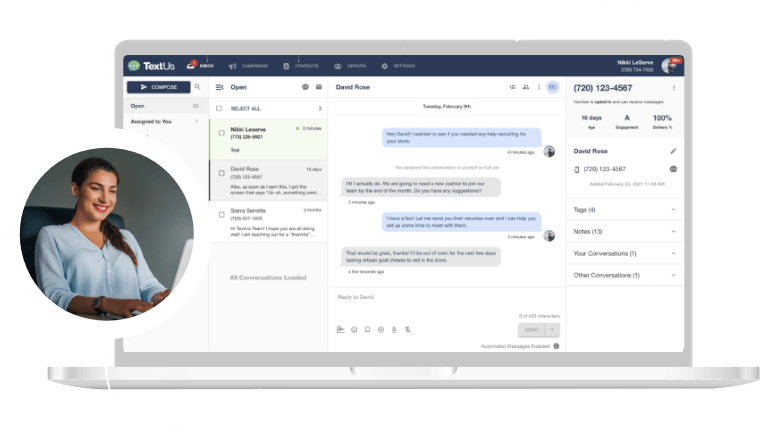 Get a TextUs Demo
Learn how thousands of businesses use TextUs everyday to communicate in real-time.