How Scheduled, Automated Text Messages Replaced Emails
Set it and forget it. You set a sleep timer to drift while in bed.  You schedule subscription deliveries for everything from food to clothes knowing it will arrive at a scheduled time. Email marketing offers the option to schedule sends and campaigns to automate communication.  But with reply and read rates lower with emails compared to texts, is the convenience of automation worth it?
Convenience is one of the most important factors for consumers.  Good tech and UX must also be convenient for the user to understand and apply it.
The scheduling demand is so strong that Android has built in a scheduling capability for personal texting.  Some of the benefits driving demand is the ability to send texts to friends or family in a different time zone or when last minute ideas pop into your head at a time when you wouldn't normally send a text.
In the suite of communication tools, calls have been known to be less convenient to get ahold of people who are busy while emails, on the other spectrum, are convenient to schedule and send but struggle with reply rates.  With demand high, scheduled texts have found their way to the market and will continue to keep a competitive edge on emails and phone calls when it comes to convenience.
Reach customers on their time
Are you an early riser –and like to send messages first thing in the morning? Or maybe you're a night owl and go through your messages late at night.  Maybe you are going on vacation but want to send something while away. Do you like to schedule a block of time to crank out messages to your contacts and cross off your to-do list?
You can schedule messages in one day and forget about them for the rest of the week or month. 
If personal use of scheduled texts is rising, the demand in business is even greater.  You may work at different times than your customers and want to reach them at a time when you aren't working.
TextUs has added a new feature with our recurring campaigns, which is similar to scheduled, automated texts. Messages that go out on a daily, weekly, biweekly, monthly, or yearly cadence can now be automated. You can save time sending messages such as:
Payroll notifications
Time card reminders
Daily check-ins
Holiday schedule notices
Open enrollment reminders
TextUs recurring campaigns
If you have a recurring calendar reminder to send X message to X group of people, TextUs recurring campaigns is for you!
Scheduling campaigns is easy with TextUs.
Choose the type of campaign (one-time or recurring).
Select the group who will receive it.
Enter the title and message of the campaign.
Schedule the cadence of the campaign if recurring (daily, weekly, biweekly, monthly, yearly).
Indicate if you want the campaign to have an end date or not.
Review.
Set and forget!
With TextUs, you can forget about remembering to send the message at the right time and focus on other tasks.  But you won't forget about the outcomes from messaging because our analytics dashboard will show you the replies and read metrics that will outperform email campaigns.
Sign up for a demo today and join other companies who have made texting their top communications tool.
PS: If you are a current TextUs user, you can review our recurring campaigns tutorial here.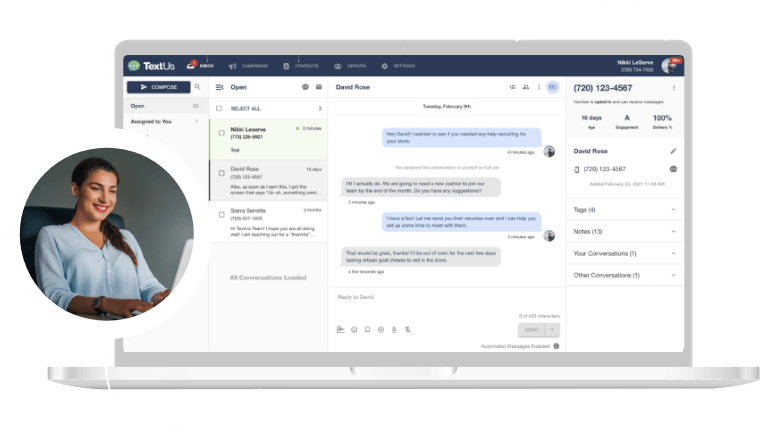 Get a TextUs Demo
Learn how thousands of businesses use TextUs everyday to communicate in real-time.