How Text Messaging Saves Healthcare Staffing Firms Time & Money
How much time do your recruiters spend making phone calls and writing emails every day? How much of that time is spent just trying to get someone's attention on the other end?
The answer is: too much.
It takes about 37 seconds to make a call and leave a voicemail and about 10 seconds to send an email. If a recruiter makes 100 calls and sends 100 emails per day, that works out to nearly 80 minutes. That's equal to 6 ? hours a week.
To top it all off, 90% of those communications go unanswered, which means that your diligent recruiter is wasting almost a whole day out of every week sending messages with no response.
Contrast this with the time it takes to send a text message — a few seconds max. Their fast speed and high response rate are two reasons why, as Josiane Feigon writes on the Salesforce blog, "text messaging should be your sales prospecting BFF." It frees up your recruiters' time so that they can focus on more revenue-generating activities.
Here are five ways text messaging saves healthcare staffing firms time and money.
Get to no faster
Our healthcare staffing clients have told us that one of the main benefits of text messaging is the ability to get a faster response, even if that response is a no.
Knowing which clients not to pursue allows your recruiters to focus on more promising prospects. As Anthony K. Tjan wrote on the Harvard Business Review blog:
"A yes is obviously the answer you always hope to get, but the ability to get a no, especially if it is a quick one, is critical to maximizing efficiency and effectiveness. The sooner you get a no, the faster you'll be able to look for that next yes."
Send to groups, respond to individuals
You can only make one phone call at a time, and each call takes time.
With two-way text messaging, you can send messages to a group and then easily engage in individual conversations with those who respond.
Say goodbye to scheduling problems
Every healthcare staffing firm faces the challenge of connecting with busy healthcare professionals. When's a good time to reach a travel nurse who works 12-hour shifts during the day?
With text messaging, you can quickly and easily schedule calls with your contacts at the times that work best for them. Voila! No more scheduling problems.
Eliminate forgotten appointments
Your recruiters finally have a call scheduled, but what if your contact forgets — back to square one?
Use text messaging to send an appointment reminder to reduce the chances that your meetings will be unexpectedly canceled.
Communicate with travelers post-sale
Text messaging can not only improve your sales process, but also facilitate your post-sale communication. For example, after placing a traveler, recruiters often need to gather documents like driver's licenses, nursing licenses, and other paperwork.
Text messaging is a quick and easy way to coordinate with your travelers about these requirements.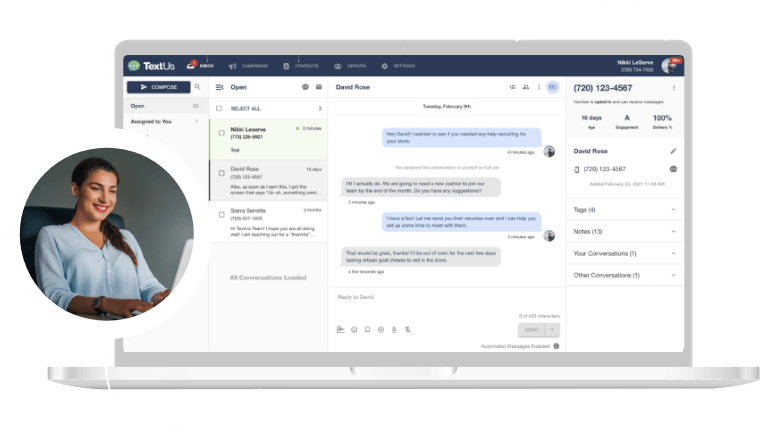 Get a TextUs Demo
Learn how thousands of businesses use TextUs everyday to communicate in real-time.