How to Improve Your Text Message Deliverability and Prevent Getting Blocked Messages
CTIA (CELLULAR TELEPHONE INDUSTRY ASSOCIATION) JUST RELEASED NEW MEASURES TO REDUCE HIGH-VOLUME SMS MESSAGING, AND WE WANT TO MAKE SURE OUR TEXTING PARTNERS UNDERSTAND EXACTLY HOW TO NAVIGATE THESE NEW GUIDELINES.
Text messaging continues to offer the best delivery and response rates of any form of business communication and we want to keep it that way. We embrace these changes as it will encourage the use of best practices in business text messaging and help limit abuse.
What you need to know:
This only relates to Group Broadcasts.
Limit Group sizes to 100 contacts or less.
Do not send Group Broadcast Messages back-to-back.
Wait 1 hour between sending Broadcast Messages.
Use Scheduled Broadcasts to help with that 1-hour timing.
If you are currently receiving a high number of "Not Delivered" notifications, refrain from sending Group Broadcasts for 48 hours, so that your number can become unblocked by the carriers.
Other tips:
In the event you are blocked from responding to a message, flag the conversation using our Message Flagging feature. You will be able to respond once the block is lifted — often within 5 minutes.
Consider using encouraging one-to-one conversations with your candidates. Text like you're texting a friend or colleague — not a list. 
If you have any questions we're here to help! You can text us at 303-442-3223 or simply respond to this email to learn more about best practices for business texting.
Thanks,
The TextUs Team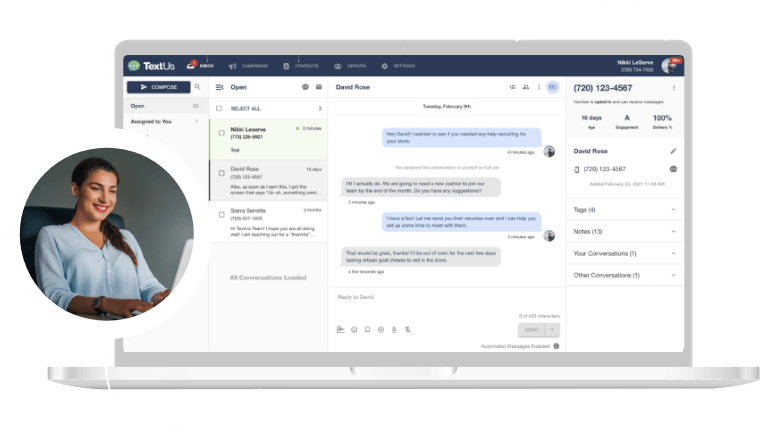 Get a TextUs Demo
Learn how thousands of businesses use TextUs everyday to communicate in real-time.