How to Increase Sales with Two-Way Text Messaging
Which one of these are you most like to respond to most quickly: voicemail, email, or text message?
Let me guess: you picked text message.
People are becoming less responsive to phone calls, voicemails, and emails.  However, they still read 98% of their text messages (90% within the first three minutes) and respond about 30% to 40% of the time.
For salespeople and recruiters, wasting time on unheard voicemails results in less sales for you or your team. Our clients find that two-way text messaging improves response rates by up to 20% and can save recruiters up to 83 minutes a day!
Here are three ways you can increase your sales with two-way text messaging.
1. Send personalized messages
Whatever message you send and however you send it, personalization will increase the open and response rates. Old school SMS 1.0 — which uses short codes and is just one-way — is generic and often spammy.
With two-way text messaging for business, aka SMS 2.0, you can send personalized messages, and your contacts won't be able to tell the difference between a text message sent from your computer and one sent from your phone.
2. Make contact more often
You probably spend a lot of time leaving voicemails and sending emails with very little response. TextUs.Biz changes this.
Research shows that, as long as texting is done well, more text messages means more conversions. A study by Velocify found that sending three or more "purposeful" (i.e., not spammy) text messages following initial contact boosts conversions by 328%.
With two-way text messaging from TextUs.biz, you can manage multiple conversations at the same time, which means you can make contact with all of your prospects more often. You can even set up auto replies so the software manages your conversations automatically when you're away from your computer.
3. Manage the communication process from beginning to end
While text messaging is not a complete replacement for phone calls and emails, it is instrumental in managing your communications with prospects from the beginning of the sales cycle to the end. Here are three times text messaging is particularly useful.
1. Making initial contact
There are two schools of thought about when in the sales process it is appropriate to use text messaging. Some suggest it should be used only after an initial phone conversation or email exchange, but others find it useful for making initial contact. Recruiters in particular find that making initial contact via text message can get you that essential "yes" or "no" answer right away, so you can either plan to follow up or turn your attention to more promising prospects.
2. Scheduling phone calls
Many people simply won't answer a phone call they aren't expecting. And if you call at an inconvenient time, you might blow your chances of ever getting your prospect on the phone. With two-way text messaging, you can ask your prospects' permission to call and then schedule the call at the time that is best for them. When the day comes, send a text message reminder to decrease the chances that your appointment will be forgotten.
3. Following up after a sale
It costs up to seven times less to retain a customer than to acquire a new one. Use two-way text messaging to follow up after sales as a way of exchanging information, maintaining customer relationships, and obtaining feedback.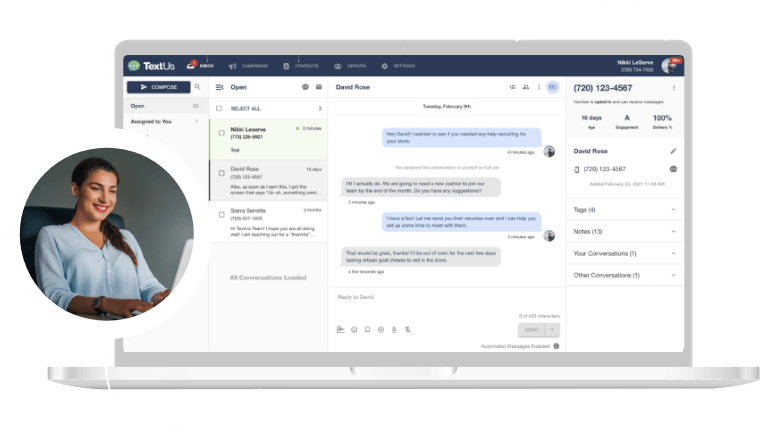 Get a TextUs Demo
Learn how thousands of businesses use TextUs everyday to communicate in real-time.