How to Send Group Broadcast Messages That Convert to One-to-One Conversations [TextUs Sequence]
Now that you have the lowdown on how to capture your Communication Sequences,  let's dive into a business texting outreach sequence example.
In our last TextUs Communication Sequence post, we showed you what it might look like to add texting to your existing email and phone call sequences to increase responses. Now, it's time to show you how to start with a TextUs Group Broadcast Message and convert the responses with one-to-one conversation follow-up.
Here's an example of a TextUs Outreach Sequence for increasing your text outreach:
Day 1: Start your sequence with a TextUs Group Broadcast Message
Using Group Broadcast Messages, you will be able to send the same message out to a large group of recipients. If any recipients reply to the message, it will convert a new one-to-one message thread between you and the recipient, without alerting any of the others in the broadcast group. Now, you'll always have tabs on who received which message, and what they said in response, automatically.
We'll use the TextUs Template, Open Position Offer:
Send TextUs Template: Open Position Offer
(Text Outreach)
"
Hi [Contact Name], [Recruiter Name] with [Staffing Firm] – reaching out as we are hiring [Position] in [City] and wondering if you are interested?"
To achieve maximum response results, pair this with our Personalization Feature. This will automatically add a personal touch to each recipient of the Group Broadcast Message, which is sure to increase your response rates. A Group Broadcast Message on its own will always save you time; but the addition of a personal touch to each message creates the ease of communication that every customer or prospective hire will appreciate.
Some Other Useful TextUs Features for Text Outreach Campaigns:
Pair these features with your Group Broadcast Message to increase convenience and time saved.
Message Templates
If you find that you often send similar messages, or the same message, Message Templates will allow you to save that message permanently. This way, you can send it out to any recipient, without having to re-type it each time. You can use a Message Template as your Group Broadcast Message, rather than creating a new message from scratch each time.
Scheduled Messages
To be sure that your messages go out to their intended recipients in a way that is timely and efficient, you can schedule messages ahead of time to be sent out at a date and time of your choosing. This can be particularly helpful as part of a Communication Sequence, as it can be automatically plugged in when you plan the sequence out, saving you time.
Day 3: Send a Last Chance Text Attempt 
If you still haven't gotten a reponse by the end of your sequence, why not try a last-chance text in an attempt to get a response:
Send TextUs Template: Last Chance
(Text Last Chance Attempt)
"

Hi [Contact Name], [Recruiter Name] with [Staffing Firm] – we have a new [Position Name] and I sent over some details. Are you interested at all?"
Check back with us soon for more useful tips on using TextUs in your Business Communication Sequences!
Want to learn more about how to your team can use business texting software? Visit our website here, or call or text us at any time: 303-442-3223.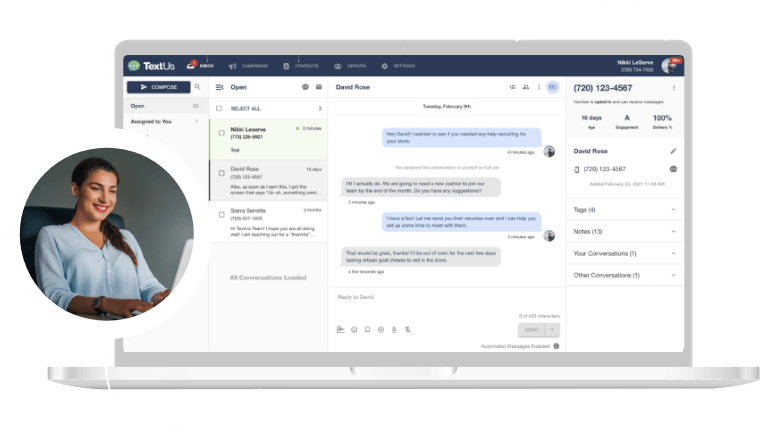 Get a TextUs Demo
Learn how thousands of businesses use TextUs everyday to communicate in real-time.