How to Speed Up Your Recruiting Cycle
Though conventional wisdom tells you to hire slow and fire fast, the recruiting world doesn't run on conventional wisdom anymore. Nearly half of companies hire recruiting firms because they need to fill positions quickly. Here are some tips for speeding up your recruiting process.
Listen to your clients
Jay Rogers, VP of Engineering Recruitment for Randstad, recently reflected on how to recruit more quickly: "We have to engage with our clients more closely in the beginning of the process, to help them identify what it is that they actually want. Not what they think they want, but what it is they actually want."
Ask the right questions. Really dig in at the start of a relationship with a client. Understand the existing culture, their current top-performing employees, and the intricacies of their industry. By doing your homework well and early, you can really zero in on best-fit candidates.
Put your marketing hat on
83% of recruiters report that the power has shifted from the employer to the candidate. The candidate is now the customer, and the recruiter has to be the marketer.
When was the last time you were swayed by a cold call? Or by a mass, impersonal email explicitly trying to sell you something? In the same way traditional marketing doesn't work on you anymore, traditional recruiting doesn't work on today's top talent.
In a candidate-focused world, you need to make talent feel seen and heard. Give them what they want.
Draw them in with useful career information and inside industry knowledge.

Email them with resume musts and interview tips.

Contact them even when you don't have a specific position in mind, to pass on a trending article relevant to their skillset.

Regularly, thoughtfully, and organically reach out to them in ways that are meaningful for them.
All of this value-added content will establish trust and connection with candidates and prime them to be more responsive to you.
Tweak the way you communicate
How you communicate is as important as what you communicate. Let's face it, telephone calls are going the way of eight-tracks and telegrams. Millennial and GenZ candidates especially don't want to talk on the phone (most won't even listen to your voicemail). Nielsen research reports that Millennials' average monthly voice minutes have plummeted, while the average number of monthly text messages has more than doubled.
It can be as simple as a text message
As much as complex technologies can be useful, when it comes to communication, simple tweaks can be revolutionary.
"Technology — even just texting — has enabled us to get to candidates more quickly, and often to get a response from a client within minutes when we present a candidate," says Sandy Mazur, division president for franchise and license operations at staffing firm Spherion.
James Heil, VP of Recruiting for Delta Locum Tenens, recently told us: "Our recruiters get a much, much higher response rate with text messaging [than phone calls]. It's a simple communication method that benefits both our recruiters and our providers." Delta Locum Tenens was able to contact 100 prospective candidates — a task which could take up to eight hours by phone — in a single hour using text messaging. This kind of time savings makes you competitive and right on schedule with fast-moving power candidates.
The speed is in the social
94% of companies use social networks to recruit. But the key is to use them well. Rather than replicating old methods with new technologies ("selling" jobs on social), savvy recruiters harness the power of social for what it does best: connect people.
A good social media strategy builds relationships.
Use your networks to showcase your client's brand.

CareerBuilder found

that, for 91% of candidates, a potential employer's brand plays a big part in whether or not they apply for a job.

Broaden your horizons beyond just LinkedIn. According to Jobvite's recent surveys,

76% of social job seekers found their current position through Facebook

.

Be consistent across platforms. Your social media voice is often a candidate's first touchpoint with you. Make it count.
Beware of social media timesucks. Don't allow a strong tool to be a stumbling block for speedier recruiting.
Follow up like the wind
The best candidates will not wait. An elite applicant working with a recruiting agency dropped out of a job race because of slow response time: "It's not like I need their job. If it takes them a week to respond to a resume like mine for a job of this importance, they're not the kind of company I want to work for. I move fast, and I can already see that my style wouldn't fit their culture."
"We don't want candidates to feel they've fallen in a big black hole," said Mazur. Slow follow-up gums up the works. It not only inherently lengthens your time-to-hire, but also it has a dampening effect on a pumped up candidate. With quick follow-up:

You kindle candidate enthusiasm and keep them interested, optimistic, and engaged.

You demonstrate to your candidates they are always important, heard, and respected.

You win highly desired talent over other slower firms.

You save your clients from upping salary bids to win back wooed-away talent.

You improve your client's brand and your firm's reputation.

You are more likely to attract passive candidates.
Want more tips on how to superpower your recruiting? Check out our 7 Habits of Highly Effective Recruiters.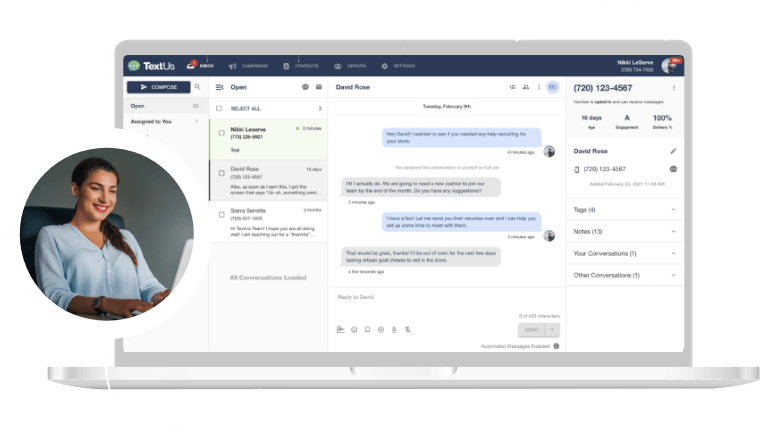 Get a TextUs Demo
Learn how thousands of businesses use TextUs everyday to communicate in real-time.