[INFOGRAPHIC] 10 Ways HR Leaders Can Use Texting
Going into year three of the pandemic, HR leaders have already faced challenges in workplace and employee management.  Now HR leaders are figuring out how to keep company morale up, hire and train during a Great Resignation, and communicate with a hybrid or remote workforce, or convince staff to return back to the office after working from home.
Fast Company predicts that in 2022 work will become asynchronous and more flexible to meet employee needs. Texting is one tool that meets the desired flexibility of workers.  No matter the function on the HR spectrum, texting can provide positive outcomes.
Corporate human resource teams use texting to engage across different stages and communicate with both candidates and employees. Here are the top ways to use text for each life cycle stage.
Talent Acquisition:
1. Connect and engage with candidates via text.
2. Easily schedule interviews and confirm candidate participation.
Onboarding + Training:
3. Create new hire text campaigns that let employees adapt to the company and culture.
4. Send training materials to make sure no paperwork or steps are missed.
Company Culture Improvement:
5. Schedule 1:1s with team members and reach out for mental health checks.
6. Collect survey feedback to improve culture, benefits, and flexibility.
Workforce Management:
7. Schedule shifts easily and keep track of timesheets.
8. Communicate company wide announcements without extra time or hassle.
Improved ATS and CRM Systems Utilization:
9. Experience seamless workflows in one place.
10. Track KPIs and best practices to ensure success of future communications.
TextUs has integrations with Workday® and Greenhouse to make texting even easier for HR leaders. These integrations enable teams to send and receive real-time, two-way text messages without switching between platforms.
Texting gives you the flexibility to let candidates get hired and employees work in a convenient way.  No matter if you are remote, in-office, or hybrid – texting lets all staff feel connected, appreciated, and gives an outlet for sending and receiving information in a central location.
Read the full infographic below and see how HR teams are using text to improve productivity.
Happy Texting!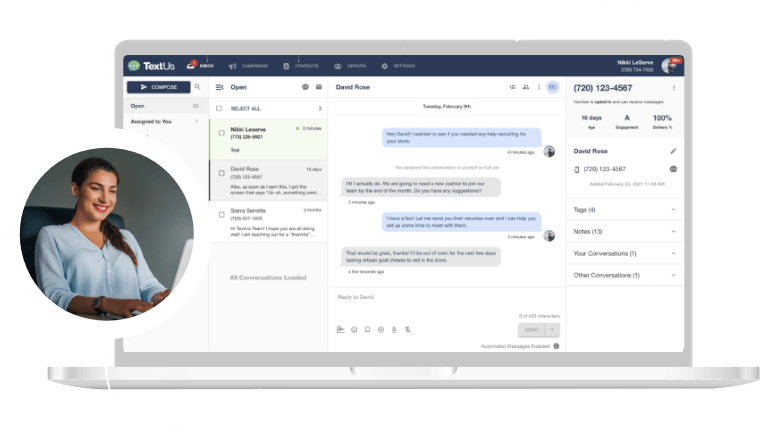 Get a TextUs Demo
Learn how thousands of businesses use TextUs everyday to communicate in real-time.