19 Reasons HR Leaders Should Use Text Messaging
The last years brought unprecedented challenges and forced us to find better and more efficient ways to communicate that will have a lasting impact going forward.
Human Resources leaders have leaned into new technologies to not only improve their workflow efficiency but also communicate more effectively with employees, team members, candidates and vendors.  Specifically, those that have embraced SMS texting as a new communications medium are seeing productivity rise and engagement with candidates and employees soar.  Text messaging is likely one of the best ways HR leaders can leverage technology to better communicate across the candidate and employee journey with an organization.
Top 5 functional areas of corporate human resources that are enhanced by text messaging:
Corporate human resource teams are leaning on text messaging to drive engagement in key functional areas within their departments.  These include, but are not limited to:
Talent Acquisition
Onboarding
Company Culture Improvement
Workforce Management
Improved ATS and CRM Systems Utilization
Communication with employees, candidates, vendors, and teams in a better, more engaging and conversational way starts with text messaging.  Texting provides HR leaders the tools they need to improve productivity, recruit better, onboard smarter, and manage workforces with ease.
19 Ways Human Resource Teams Can Use Text Messaging To Communicate Better
Engage with top talent where they already are; on their phones. On average, people respond to text in 90 seconds vs. 90 minutes for email.
Connect better.  Text has a 98% read rate and 40% response rate, proving more effective than email or phone,
Quickly and easily schedule interviews with candidates without waiting for a callback.
Onboard smarter by using text to follow up with ease to ensure every step in the new hire process is completed.
Send a "Welcome" message on a new employee's first day.
Use SMS to remind new hires to complete onboarding tasks.
Quickly send check-in texts to ensure your new hire is getting the support needed to be successful.
Send texts to notify new hires of important timelines such as benefits eligibility dates or open enrollment.
Use SMS to remind new employees of deadlines for time card or expense report submissions.
Use text to schedule 1:1s with current employees and teammates.
Send employee surveys by text message to ensure maximum response and engagement.
Utilize SMS as an employee crisis hotline so they can quickly and easily raise concerns to HR leadership.
Quickly send company-wide announcements to keep teams informed.
Manage workforces more efficiently by schedule shifts quickly and easily with SMS.
Adapt faster to changing schedules by using text to adjust to last minute fluctuations.
Use text campaigns to broadcast safety and weather concerns or other crisis communications.
Easily request feedback from field teams by sending quick surveys via text.
Integrate text with your CRM or ATS system to easily track all communications.
Analyze text message effectiveness by tracking them against KPIs.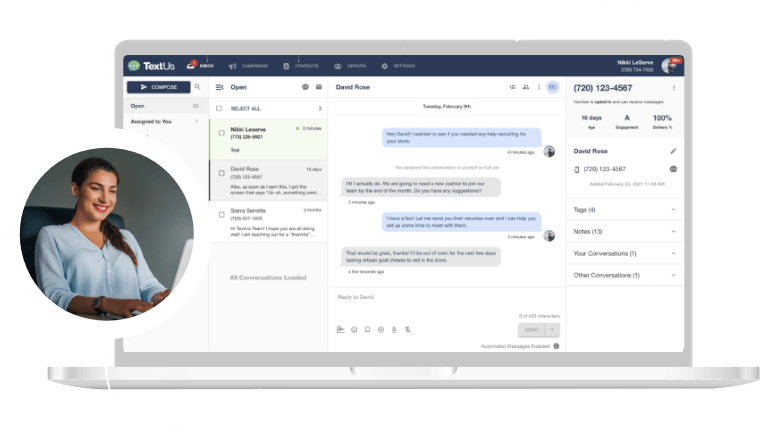 Get a TextUs Demo
Learn how thousands of businesses use TextUs everyday to communicate in real-time.