Why You Should Implement Business SMS This Year
People love their phones. You can say that some people are even addicted to them.  A Reviews.org survey from 2020 found 75.4% respondents admit and consider themselves addicted to their phones.
Other stats from 2020 include:
65.6% check their phones up to 160 times per day.
65.7% sleep with their phone at night.
64.2% have texted someone in the same room as them.
If people are spending this much time and placing such high importance on their phones, why wouldn't you reach them where they are?
Digital Trends in 2021
Smartphones and enhanced technology were already on the rise but the pandemic escalated digital use. Transitions to remote work and changes in consumer behavior meant that more people sought flexibility and convenience through technology. Reviews.org initiated a follow-up survey and discovered that some of the stats increased.
People are now checking their phones 100 times more a day than last year.  That trend in usage is a compelling sign for reaching people on their phones.
Other trends for 2021:
80% of Americans say they check their phones within the first 10 minutes of waking up.
67% say they have texted someone in the same room as them before.
If people are checking their phones as soon as they wake up, continually checking over 200 times throughout the day, and even choosing to text people in the same room — the chance of them seeing and engaging with a text upon receiving a notification is higher than a behind-the-scenes email sitting in the spam folder. 
Texting Tools for Business
A Forrester study expects 2021 to see an increase in marketing messaging.  As emails rise and are ignored, the opening for text becomes more clear.
The shift to digital means that the amount of content competition will increase. With consumers and businesses wanting to interact digitally, finding credible and trustworthy outlets will be imperative.
The introduction of 10DLC in the texting world ensures the trust consumers can depend on as a communications tool.  TextUs has been working with customers to adhere to 10DLC guidelines, achieve higher throughput, provide transparency, and improve deliverability in messaging.
The Future is Texting
Now is the time to implement texting as a communications tool for your business.  Consumers have shown they want convenience and flexibility.  The option to text is more favorable to many people– but younger generations do not see texting as an option, but rather a necessity.
If your business is targeting millennials or GenZ, you will need to incorporate messaging tools that fit their demand.  As these generations become more involved in the workforce, they will choose to text over phone and email.
One study found that texting increased by 26% in 2020. Fueled by the digital transformation and pandemic but also the realization that:
88% of millennials prefer texting.
52% of millennials say they feel anxious taking a phone call, versus only 23% of boomers.
50% of millennials have asked their parents to call and make an appointment for them.
60% of GenZers and millennials say they hate calling people.
Be prepared for the future wave of business leaders and consumers.  In a mobile-first world where notifications and real-time impact response and engagement, make sure that your communications tools make the cut instead of cutting you off from your candidates, customers, employees and partners.
Learn how to use SMS for your business today and reach your customers where they are already checking 262 times a day!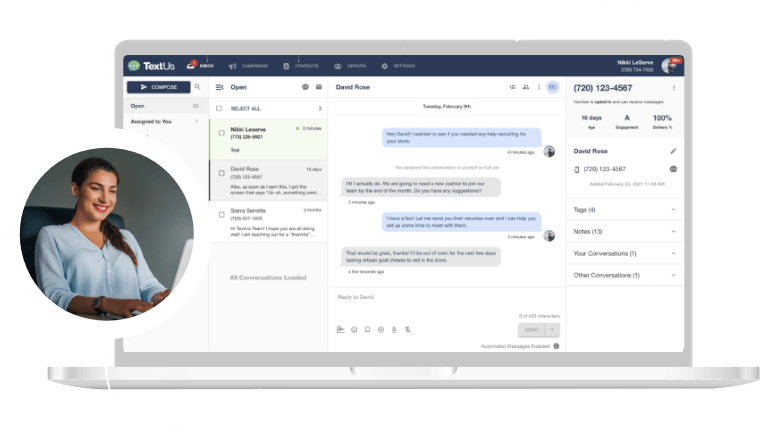 Get a TextUs Demo
Learn how thousands of businesses use TextUs everyday to communicate in real-time.