Introducing TextUs Next: The World's First Real-Time Communication Platform for Business
Business today moves at the speed of now — everything is available on-demand, and as soon as we want something, we expect to have it. 
We don't wait for a taxi on the corner, we request a rideshare service to come to us directly, within minutes. We don't have to wait in line at Starbucks, we can order ahead on our phones, grab it at the counter, and go. We don't wait on hold with customer service, we expect to connect with another human who can help us — right now.
Today's customers need to be met on their own terms — not yours. That means that the old business-first approach that interrupts customers with cold calls is as dead as the fax machine.
Think about it: we don't even cold calls our friends anymore. We text them to ask when they're available to chat. 
We built TextUs for real-time communication. You can text-enable all your business phone numbers, giving your customers an easy, direct, 1:1 connection with you. Your customers will love the on-demand attention, and your team will be able to get ahold of anyone, anywhere in real time, so they can finally communicate at the speed of today's economy.
With this new power to reach customers in real-time, you have a lot more communication to manage and control.
That's why we're super excited to introduce TextUs Next. We've rebuilt TextUs from the ground up so you can take enterprise-level control of your entire team's text messaging, manage hundreds of conversations with ease, and take your text messaging campaigns to the next level.
Here's what you can expect from TextUs Next.
Conversational SMS campaigns – reach your customers without being promotional
Gone are the days when your customers will tolerate promotional spam messages. Now, even if you are reaching out to hundreds of contacts, your messages need to feel personalized, well-crafted, and meaningful.
With TextUs Next, you can take your conversational SMS campaigns to the next level. 
Conversational SMS Campaigns: Send personalized campaigns to hundreds of contacts that get a response.
Dynamic Campaigns: Schedule multiple campaigns at once without worries — we'll take care of the timing.
Campaign Funnel Metrics: Dive into the analytics for different contact segments with our more granular campaign funnel metrics.
Enterprise-level control over text messaging  
When you power your business with real-time communication, you generate a lot of conversations. To understand how healthy your team is and how happy your customers are, you need deep insight into those conversations. TextUs Next unlocks enterprise-level management, insight, and control over text messaging throughout your entire organization.
Organization Mapping: Determine which teams and individuals have access to settings, integrations, templates, and more.
New Super Admin User Control: Gain insight into messaging, settings, and analytics for all sub-accounts with new enterprise-level super admin user controls.
Global Opt-Outs: Determine whether unsubscribes should be global or local to a specific account.
Whitelabel: Whitelabel your TextUs app with your company branding.
Real-time conversations inbox
It's time to take text messaging more seriously. Your text communication is just as important as your emails, your web chats, and your phone calls, so your text inbox needs to give you the kind of rich features you've come to expect for all your most important communications. 
TextUs Next new messaging layout allows you to focus on the conversations that matter while easily managing real-time conversations at scale.
Conversation Management: Manage conversations by sorting into conversation states, such as open, unanswered, and closed.
Quick Compose and Quick Contact Add: Get the conversation started faster with the new quick compose and quick-add contact features.
Text Message Dictation: Talk instead of type with our new text message dictation feature.
Note History: Get a snapshot of an entire conversation timeline with new historical data.
Conversation Funnel Analytics: Get deeper insight into your active convos, response rate, number of messages per convo, unsubscribes, and more with new analytics features.
Team collaboration for scaling your conversations 
First, companies like yours started freeing text messaging from their team's personal cell phones. Now, TextUs Next takes that idea one step further and frees text messaging from individual inboxes. 
Your team can have each others' backs and you can be sure a customer's interest in your company never goes unanswered.
Multi-User Phone Numbers: Give team members access to multiple phone numbers, such as a department number and an individual number.
Multi-User Conversations: Empower multiple team members to manage conversations on one number.
Multi-User Message Read Status: Keep everyone on the same page with mult-user read statuses, which lets teammates know who has seen a message.
Typing Indicators: Avoid stepping on each other's toes: know when other users are typing in the same conversation.
Follow Conversations: Follow a conversation and jump in if you can help.
TextUs Contact Center helps you manage your contacts and sync with your CRM/ATS 
As you connect with more and more people, you need a more robust contact system to help you remain on the pulse of your audience. 
TextUs Next introduces the TextUs Contact center, an advanced contact management system that integrates seamlessly with your existing CRM/ATS.
Customizable Contact Properties: Record the contact properties that are the most meaningful to your business with customizable contact fields.
Full CRM/ATS Contact Sync: Track the data that matters by easily syncing up your CRM/ATS contact database with the TextUs Contact Center.
New Improved Search: Target the right contacts easily with advanced (and saveable) search functions — search by business name and tags in addition to name and phone number!
Segment Contacts: Connect with the exact audience for your message by segmenting your contacts into thoughtful categories. 
Introducing The TextUs Bot – Your new business texting assistant has your back
The TextUs Bot is here to help keep you organized and up to date on all your new real-time communication. Automatically close old conversations to keep your inbox clean and when it's after hours don't worry, the TextUs Bot has your back with an away message.   
Auto-Close Conversations – The TextUs Bot will help keep you organized by automatically closing old conversations to keep your inbox clean.
Intro Messages – Automatically send a text personally introducing you to your contacts.
Away Messages – Away or after hours? Don't worry the TextUs Bot had your back.
Intelligent Signatures – Dynamically turn on and off you message signature after your initial message.
Automated Opt-in/Out – Automatically opt-out/in contacts with the keywords STOP or START
Ready to upgrade to a real-time communication workflow with TextUs Next? Schedule a demo or shoot us a text to 303-442-3223 to get started!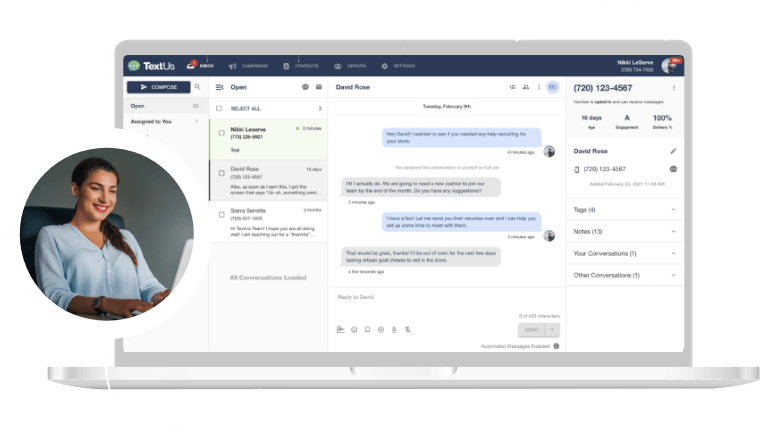 Get a TextUs Demo
Learn how thousands of businesses use TextUs everyday to communicate in real-time.