Is Your Staffing Software Doing What You Want It To?
Technology is so fundamental to our daily workflow that we don't often ask if it's really making our lives easier. Not all staffing software is created equal. For example, a CRM that doesn't talk to your website or to your text messaging system might be hindering your growth.
Is your staffing software doing its job? Here's what good software does for you.
It's easy to use
If you're constantly consulting your IT department on how to perform basic functions with your software, it may not be you. A steep learning curve and constant frustrations have never been a hallmark for a good tool. Seems basic, but plenty of recruiters make do with user-unfriendly systems. Strong staffing software — from an ATS to a texting platform — is easily to implement and intuitive to use.
It saves you time
The point of using technology on the job is so you can do your job better. Your staffing and recruiting software should automate the processes that bog you down and take you away from candidates.
A simple feature, like automatic email confirmation or text message scheduling, can significantly streamline your workflow. Recruiters are into Recruiterbox, for example, because it automates the arduous task of extracting relevant info from resumes to create candidate profiles.
It helps you engage the right candidates
Many ATS and CRM systems that recruiters use are one-size-fits-all. They cast a wide net, post your job listing to myriad job boards, and get a lot of minnows in return.
Solid recruiting software can help you curtail the resume overload. For example, FileFinder Anywhere tailors your candidate search to your specific needs, zeroing in on the most relevant posting sites, from niche job boards to specific social media platforms.
It's fully integrated
Switching from program to program to accomplish different tasks isn't just a waste of time. Without a fully integrated system, candidates could be falling through the cracks. Your software should capture interested candidates from every avenue of contact, from direct emails to call-ins, text messages, and social media touches.
It's truly mobile
Solid staffing software doesn't create mobile experiences just for job seekers. It accommodates your team's mobile needs, too. Most recruiters need to be plugged in when they're on the go. More and more, the top systems are cloud-based. Workable, for example, allows you and your team to keep tabs on candidates no matter where you are.
It measures your success
The last thing you want to be in the dark about is how well you're performing.
A strong software suite will help you track your placement rates. It will give you a strong idea of how you're sourcing your top candidates. For example, are you finding them on LinkedIn? What communication channels are most effective for getting a hold of them? If you don't have this information available, your staffing software may not be doing its job.
What does your staffing software do well? What features do you pine for? Let us know on Twitter, Facebook, and LinkedIn.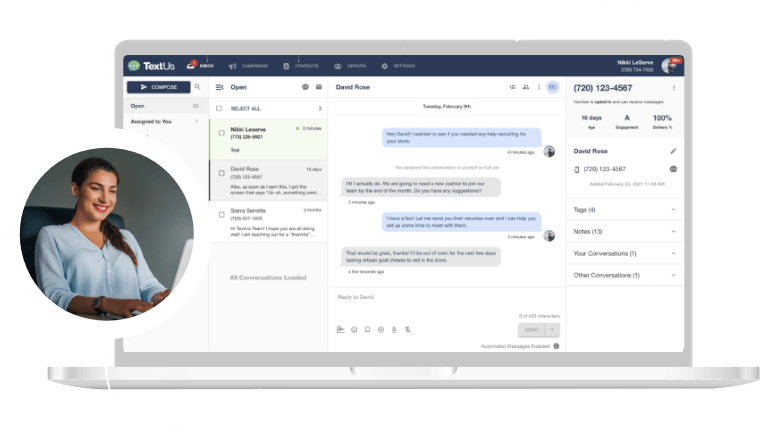 Get a TextUs Demo
Learn how thousands of businesses use TextUs everyday to communicate in real-time.