Learn How the Fastest-Growing Staffing Firms Operate: 5 Interviews with Industry Leaders [eBook]
Staffing Industry Analysts recently released their list of 2016's fastest growing staffing firms. We interviewed executives at five of these top companies to get insight into just how they do it. Here are the secrets to their success.
---
A FEW QUESTIONS WE ASKED IN THE INTERVIEWS:
What factors drove success?
What are your biggest day-to-day challenges?
How would you describe your leadership style?
What do you think sets your company apart?
---
HIGHLIGHTS FROM THE TOP STAFFING FIRM INTERVIEWS:
Source4Teachers is Inspired by Deep Industry Knowledge, Committed to Effective Tech Solutions, and Driven by Excellence
If you treat your employees well, if you take care of them, they will take care of your clients. From there, you will see growth and profit. All of that profit is shared with all the stakeholders. We see ourselves as one big team, working together to get things done. — Kendley Davenport, CEO of Source4Teachers
SearchPros Solutions Values Process, Teamwork, and Hands-on Leadership
In 11 years, we've never lost a customer and I think that speaks volumes to the quality of our service and the strength of our dedication. — Myla Ramos, CEO of SearchPros Staffing
Dedicated Nursing Associates Prioritizes Right-Fit Employees, Drives Accountability with Clear Goals, and Fuels Engagement with Innovative Tactics
A nurse wrote me a letter once. She said, "I've been working in the nursing field for 30 years. I got so sick of missing out on life, of missing holidays and birthdays. I was about ready to quit. Then, I found your company — I work as often as I want, whenever I want . . . That flexibility has energized me — I love my job again. I may stay in the field for another 4 or 5 years." — Craig Fusting, President and CEO of Dedicated Nursing Associates
Health Carousel Prizes a Driven Team, Savvy Tech Decisions, and a Modern Communication Strategy
We have a very significant push to leverage technology to communicate with our target audience. We know it's not always convenient for our clinicians to talk on the phone. It's crucial that we communicate in ways that satisfy our clinical staff. So, we do a lot with email, text messaging, and social media. And what's more, we measure the effectiveness of our all of our outreach efforts and adjust to each individual's needs. — Bill DeVille, CEO of Health Carousel
Phaidon International Propels Internal and External Employees to Lasting Success
Our business model is strong. We look to create long-standing, strategic relationships with clients. Our growth is 99% organic, and our recruitment is quite aggressive. We are shaped by our core values in all the talent we pursue: loyalty, character, and ability. As a result, our service, delivery, and speed are much better than our competitors. — Harry Youtan, Group Managing Director, Americas, Phaidon International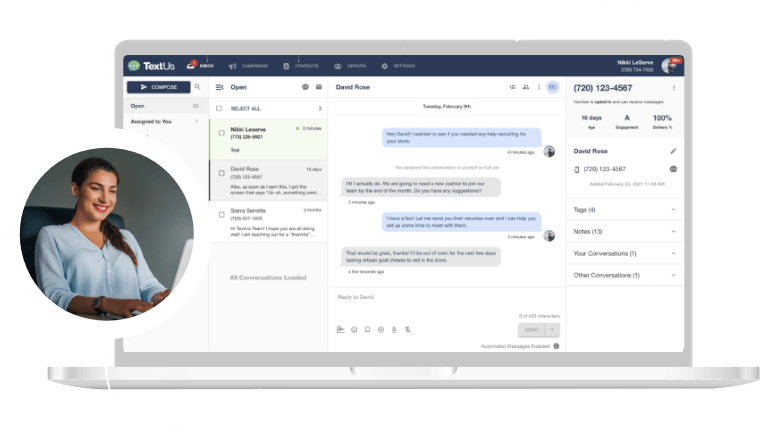 Get a TextUs Demo
Learn how thousands of businesses use TextUs everyday to communicate in real-time.