Leveraging Technology to Power Your Staffing Firm
Making the most of your technology means choosing your tools strategically and pushing for continual improvement. Here's how to leverage technology to power your staffing firm.
Pick tools that align with your goals.
Move beyond adopting technology haphazardly. Rather than picking the slickest or trendiest apps, zoom out a bit. Push to develop a technology strategy so your tools drive your larger goals.
When examining your existing platforms and before you invest in new technology, ask yourself these questions.
What problems does this technology solve?

How does this tool further your primary strategic goals? Could it assist you better? What would that look like?

What is your ideal workflow? Which of your tools help you reach that ideal? Which impede it and how?

What kind of experience are you seeking to create for candidates? What technology supports that?
Use tech to speed up your recruiting cycle.
Pay close attention to where your recruiting cycle breaks down. Is there a tech solution for your problem?
Do your recruiters regularly lose out on top talent because they just aren't getting responses?

Consider implementing a

texting platform

to increase your response rate, speed connection, and place candidates faster.

Do your recruiters take longer to follow up phone calls than web inquiries? What makes web inquiries so much easier?

Consider voicemail-to-text translators so all candidate correspondence is managed on the computer.

Does your in-house chat platform regularly suck candidate productivity?

Implement chat-free hours where the individual recruiters or the entire office goes dark each day to attend to pressing tasks with total focus.

Have you been unimpressed with your recruiters' favorite job matchmaking apps for some time, but haven't had time to make the switch?

Assign software research to one of your staff members.
For more tips, check out our blog on how to speed up your recruiting cycle.
Constantly push for improvement.
It's easy to fall into routines and fail to notice that a tool is taking up more time than it's saving. Do any of your tools match these descriptions?
It was efficient in the beginning but has failed to evolve with your firm.

It's the go-to tool for most firms out there, but it just doesn't work for you.

It's effective, powerful, and indispensable, but you know you could be using it even better.
Sometimes, you're missing a tool entirely because you stopped optimizing a decade ago.
When you encounter these trouble spots, don't ignore them. Proactively seek out new tools and new ways to use existing technology.
Looking for more tech tips for staffing firms? Check out today's hot staffing tech trends.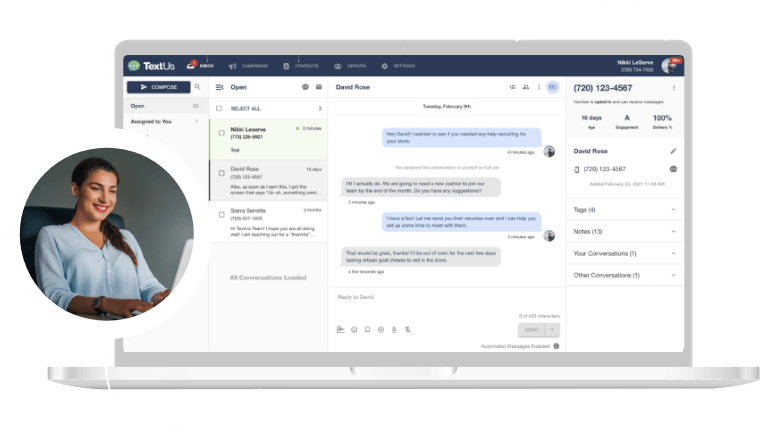 Get a TextUs Demo
Learn how thousands of businesses use TextUs everyday to communicate in real-time.