New Feature: Improved TextUs Spreadsheet Uploads [Product Update]
Uploading new contacts into your TextUs account just got easier!
Today, we launched a redesigned spreadsheet uploading system that will provide more details about your uploads and make creating Groups even more efficient.
The improved spreadsheet uploader allows you to easily select files saved anywhere on your computer, view the status of the upload, receive feedback on any errors within the spreadsheet, and more.
Upload Contacts to Groups or Your Contact List
You can now upload contacts directly into your Contact List or individual Groups without needing to save the .xls or .csv file to your desktop first. We've built in a simple button that allows you to select files saved anywhere on your computer. Don't worry, you still have the option to drag-and-drop if you'd prefer!
You'll be guided through the upload process and once complete, your contacts will be visible without needing to refresh! Contacts will immediately be organized alphabetically within your Group or Contact List.
New Spreadsheet Error Feedback to Help You Troubleshoot
Errors in your spreadsheet? No problem! Once the upload is complete, you'll see a list of rows with easy to understand feedback so you can quickly update your spreadsheet and try again.
Spreadsheet Upload Sidebar List
Your most recent spreadsheet uploads are stored in the Spreadsheet Upload sidebar and can be viewed for up to one week. This allows you to view file names, upload success, and feedback on previously uploaded spreadsheets
All spreadsheet requirements have stayed the same, so you'll want to continue to pay attention to your formatting (and header titles!) to guarantee the best upload experience.
As always, if you get stuck or have any questions, we're here to help! Don't hesitate to reach out to our Support Team at support@textus.com.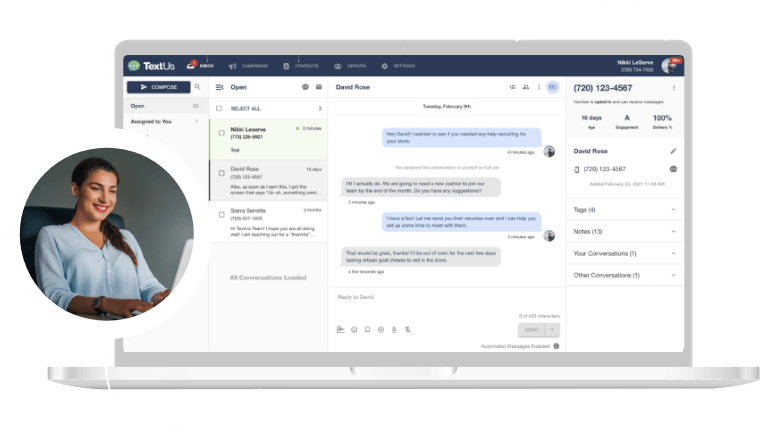 Get a TextUs Demo
Learn how thousands of businesses use TextUs everyday to communicate in real-time.