New Feature Release: Broadcast Message Templates & Scheduling + Group Search
Introducing the new and improved TextUs.Biz Groups and Broadcast Messages! Based on some great customer feedback we've made some big improvements to the way you can send and manage Broadcast Messages directly from your Groups.
What is a Broadcast Message?
A Broadcast message is a messages that is sent to an entire Group as opposed to an individual contact. When a Broadcast Message goes out, it will allow everyone in the Group to receive the message and if they respond a new one-to-one conversation will be started in TextUs.Biz.
Broadcast Messages Now with Templates and Scheduling
Broadcast Messages now include the ability to use Messages Templates, Field Merge Tags and Scheduling! That's right, you can now use Message Templates to more efficiently send out your Broadcast messages! This should not only make sending messages to your Groups more manageable, but also more personal with the ability to use the Field Merge Tags to allow you to add your contacts First Name, Last Name, Company Name or Phone Number.
Also included in this update; you can now Schedule a Group Broadcast Messages to go out at a future date and time, just like your one-to-one messages!
Groups Search
We found that many teams had created a lot of Groups and were spending too much time trying to find a specific Group to message. So, we now offer the ability to search your Groups to make the process even easier. In the Groups section you'll now notice a "Search Groups by Name" field right above your Group list.
Next time you need to send the same text message to more than one person, think twice! It's easy to create a Group and now even easier to schedule a Group Broadcast Message.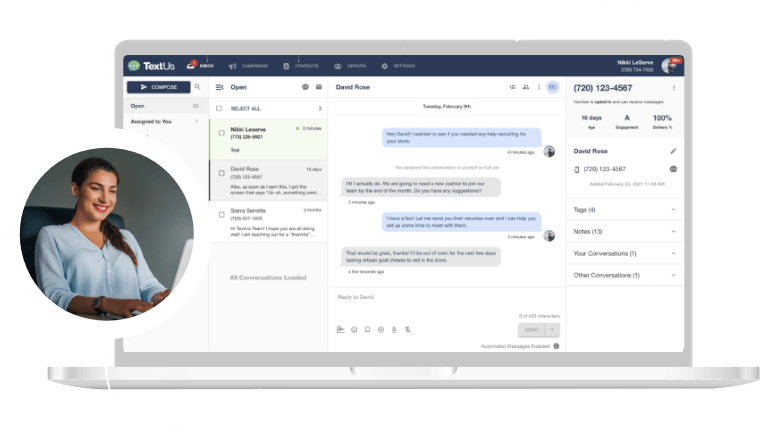 Get a TextUs Demo
Learn how thousands of businesses use TextUs everyday to communicate in real-time.