Ochsner Health Achieves an 80% Response Rate, Responds in Real-Time to Pandemic Needs, and Improves Employee Experience with TextUs
Ochsner Health, the largest nonprofit healthcare system in Louisiana, has been providing high-quality patient care since 1942. They employ over 26,000 employees and over 4,500 employed and affiliated physicians in over 90 medical specialties. At any given moment, Ochsner may need to get a hold of a nurse working in critical care at one of their hospitals, a patient care tech in another, and a med-surg nurse in yet another. They have a small, powerful leadership team that coordinates staff assignments, and this team's challenge has always been: how do they stay in touch with their healthcare employees?
What's more, in this outreach, time is essential. They typically have a team of float nurses scheduled for a shift who won't know their specific assignment until a couple of hours before the shift starts. It's imperative that Ochsner's staffing team gets a hold of the nurses quickly and effectively, not just to keep business running smoothly but to keep their patient care top-notch.
Ochsner had tried many solutions to tackle this outreach problem. They knew texting was the most effective way to get a hold of busy medical professionals – a nurse can't pick up a phone call when she's on the floor, but she can likely respond to a text.
But not all texting is created equal. At one point, the Ochsner team was texting from mobile devices.
It makes your thumbs ache just to think of it.
"I thought, there has to be a better way," said Bruce Weinberg, Assistant Vice President, Nursing Workforce Management at Ochsner Health. The staffing firms they partner with recommended TextUs and after demoing a few platforms, Ochsner opted for TextUs, too.
And they're glad they did. With TextUs, Ochsner Health got an 80% response rate on their text messages, improved their healthcare employees' experience, gained insight into conversations, and communicated rapidly changing information in real-time during the pandemic.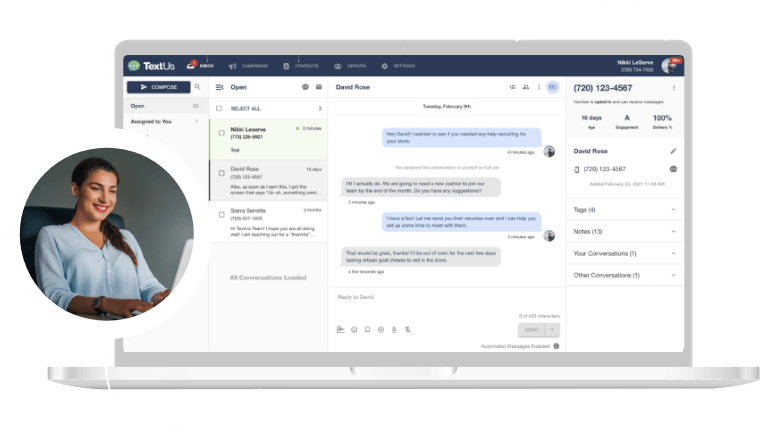 Get a TextUs Demo
Learn how thousands of businesses use TextUs everyday to communicate in real-time.