One Hundredth Staffing Firm Selects TextUs for Text Messaging
Powerful two-way text messaging software improves recruiter productivity and significantly increases sales for 100 staffing and recruiting firms
Among TextUs' staffing industry partners are: Focus Staff, The Right Solutions Healthcare Travelers, Allied Personnel Services, Hamilton-Ryker Company, CareTeam Solutions, Premier Medical Staffing Services, O.R. Nurses Nationwide, Republic Health Resources, Icon Staffing Network, WSi Healthcare Personnel, Liquid Agents, Accountable Healthcare Staffing, Delta Locum Tenens, TaleMed, trustaff, Medical Staffing Solutions, Cell Staff, Millennium Staffing, Trusted Nurse Staffing, Lutech Resources, Advanced Specialty Care, GrapeTree Medical Staffing, AHS Staffing, Integrity Staffing Solutions, Outsource, Procel Nurses, Pioneer Healthcare Services, ETHIKA Group, Adkisson Search Consultants, Assurgent Medical Staffing, Medical Staffing Options, Expedient Medstaff, Power Personnel, Gifted Nurses, Emerald Health Care, PRN Staffing, QPS Employment Group, The Select Group, Advanced Resources, iPlace USA, Peoplelink Staffing Solutions, Advanced Group, Crown Services, Globalpundits, Outsourced, and Centra Healthcare Solutions.
Business-class text messaging allows staffing and recruiting firms to:
Get ahold of candidates more quickly

Eliminate wasted time making phone calls and leaving voicemails

Combine the power of text messaging with easy-to-use software

Improve candidate response rates by up to 800% over emails and phone calls
Martin Vidal, President of Trusted Nurse Staffing, said, "Our clients love being able to text message. TextUs gives us a leg up on the competition. Text messaging with TextUs makes everything easier for everyone."
James Heil, VP of Recruiting for Delta Locum Tenens, said, "Our recruiters get a much, much higher response rate with text messaging. It's a simple communication method that benefits both our recruiters and our providers."
"TextUs is powerful! It's great for reaching a pool of people to assess availability. It's a big time saver," said John Willcoxon, Branch Manager with Hamilton-Ryker.
TextUs President Ted Guggenheim commented: "We are really excited to see that so many staffing firms have discovered the power of business-class texting for recruiting. The data shows that the fastest-growing staffing firms use two-way text messaging all day, every day. They choose TextUs because it is a powerful new tool that speeds up the ability to contact candidates, increases response rates, and elevates text messaging for business communication."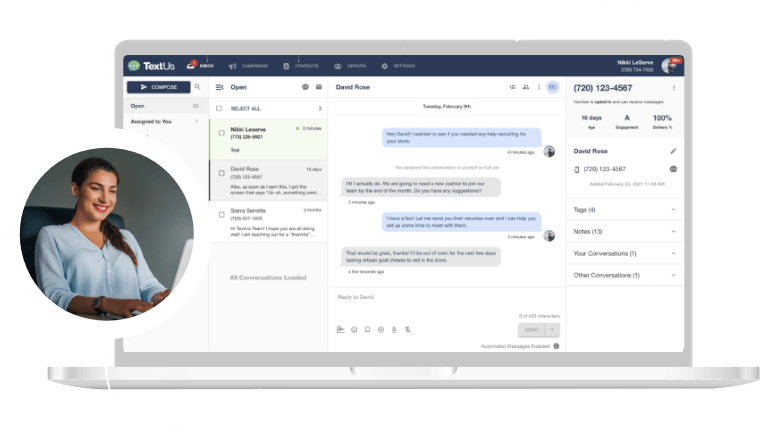 Get a TextUs Demo
Learn how thousands of businesses use TextUs everyday to communicate in real-time.