Our Most-Read Articles of the Decade
As we look back on the 2010s, we've learned a lot, shared a lot of our learning, and connected with some great partners along the way. We're grateful for how we've grown and wanted to give a little back.
So here are our most-read articles — ever. You'll see texting templates for sales and recruiting, comprehensive guides on how to adopt the smartest outreach strategy for your business, and an in-depth look at how one of our customers used texting to make their team better.
Here is a decade-worth of insights and research from TextUs. Enjoy!
You're probably a pro when it comes to using email templates and honing your email communication strategy. But, text messaging is a different tool entirely. You want to be engaging, casual, and friendly. You want to excite your contacts, maintain professionalism, and pack in a whole lot of information — in just 140 characters.
Here are our suggestions on how to do just that. From ideas on tapping dormant candidates in recruiting to warming up leads in sales, these text templates will help you send the right message, every time.
Have you noticed that your applicants and even employees take a long time to respond to your calls and emails? If they respond at all? Like you, they are inundated with messages. Each day, they probably receive dozens of phone calls and hundreds of emails.
Being part of a more connected world can speed up business, but it also means that traditional channels of communication are crowded and becoming less effective each day.
Text messaging is a great way to cut through the noise. Our text messaging templates here are designed specifically for HR teams.  They will help you engage your employees, speed your onboarding process, and attract the attention of talented candidates.
Read on or download and share with your team!
Sometimes, the right message is all it takes to get a meeting with your contacts. And text messaging is the perfect medium for setting appointments. It helps you ask simple questions and get quick answers back, just what you need to fill your calendar.
Here are 9 text messaging templates to help you book meetings faster with your contacts.
We've all gotten texts like this before.
Shortcode text: Win a brand new Porsche! Text VROOM to 27272!
Even if you're into the idea of driving around in your new Porsche, you probably don't look forward to getting these texts.
There's a better way. Long-code text messaging is personalized, directed, two-way communication. Long code is the ideal form of business texting for your sales team.
Thinking of adding texting to your business communication strategy? Long codes and short codes are as different as cell phones and pagers.
As voicemail response rates decline, text messaging and emails are becoming the heavy hitters for inside sales teams.
Here are seven email templates with messages that work at different phases of the sales cycle.
Increasingly, businesses rely on the simplicity and convenience of text to help them get in touch with prospects more quickly, schedule meetings, move deals towards a close, and more.
And just as "business communication" is more powerful and complex than simply communicating for business, business texting is more than just texting for business.
Loyal Source, a staffing firm largely serving government clients, knew that phone and email outreach wasn't working. Their candidates stopped responding to calls and were increasingly opting out of emails. With Baby Boomers aging out of the workforce and Millennials aging in, texting has become the preferred method of communication for more and more of Loyal Source's contacts.
By integrating business-class texting platform TextUs with Bullhorn, their existing ATS, Loyal Source improved their response rates, slashed sourcing time, and boosted productivity. It
There you have it — our top reads from the 2010s. Looking for even more insight? Check out our guide on how to adopt a real-time communication strategy.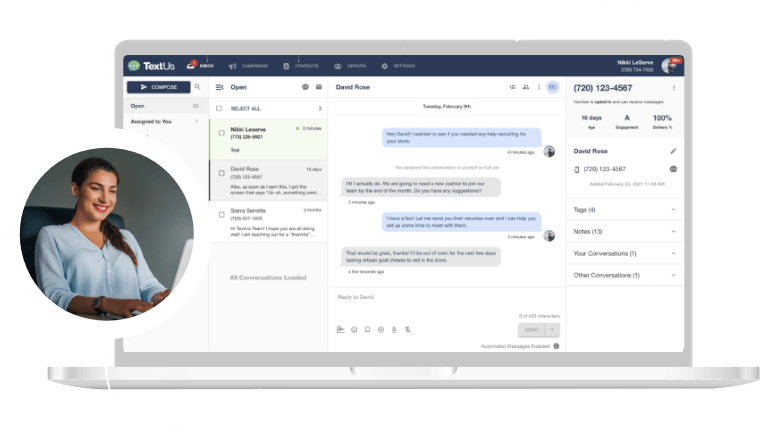 Get a TextUs Demo
Learn how thousands of businesses use TextUs everyday to communicate in real-time.