Our New COO Is Obsessed with Team Growth, Customer Happiness, and Her Bike 🚲 😀
We are extremely excited to announce that Ericka Hyson has joined our team as our new Chief Operating Officer. In her new role, Ericka will drive team development, make sure our clients are happy and successful, and spur more of this wild growth we've been working so hard for these past few years.
Sure, we can tell you about Ericka's role at the ettain group, helping the staffing firm become one of the fastest-growing firms in the nation. We can tell you about her seriously impressive honors — how she was named to Staffing Industry Analysts' Global Power Women in Staffing for two years and has been honored by the Charlotte Business Journal with a 2018 Women in Business Award.
But, we asked Ericka what she wanted to talk about and what came up was her love of people, of creating real connections. Here is what she said: "I have a passion for people. I enjoy building relationships, creating opportunities for others, and building economies of scale in fast-moving, growing companies."
See why we're so geeked out that she joined the team? She shares TextUs's obsession with creating growth by building better relationships.
And when she's not in the office, inspiring us to work harder, close faster, and make our clients even happier, you might find her working up a sweat biking to the office in Boulder, or on her beloved Peloton. (Any fellow Peloton community members out there? Take a virtual ride with her or give her a high five! @weekapaugroovin)
Want to welcome Ericka to the team? She'd love to hear from you — text her congrats at 720-729-0709.
---
P.S. Can we send you an email?
Once a month or so, thousands of business pros get an email with our best content. We never bug you; we just send you our latest content to keep you in the loop.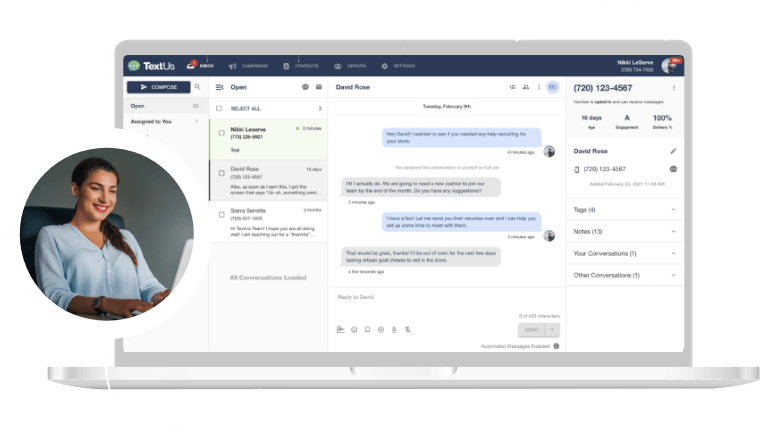 Get a TextUs Demo
Learn how thousands of businesses use TextUs everyday to communicate in real-time.