Over 70% of Fast-Growth Staffing Firms Use Text Messaging to Follow Up with Candidates, Engage Talent, and Schedule Appointments
In fact, over 70% of staffing firms indicated that they use text messaging to follow up with candidates from the get-go, touch base with active and placed talent, and schedule and confirm appointments and interviews.
Fast-growth staffing firms are also more than twice as likely than slow-growth firms to use text messaging to help with credentialing and nearly 60% more likely to use texts to touch base with inactive candidates.
---
---
Caleb English, COO at TRS Healthcare, one of Staffing Industry Analysts' Top 100 Largest Global Staffing and Recruiting Firms, says texting is "beneficial in establishing the best time to contact an applicant. Texting doesn't always facilitate an in-depth conversation about a career, but it does allow the opportunity to set a follow-up plan."
Winston Howard, Branch Manager at Hamilton-Ryker, one of Inavero's Best of Staffing Firms, says that texting is a "huge time-saver," allowing him and his team to assess availability more quickly, hear back from associates who've never returned phone calls, and achieve over a 60% response rate.
David McKenzie, Director of Talent at LiquidAgents Healthcare, one of SIA's Top 100 Fastest-Growing Staffing Firms, says that texting has "cut my booking time in half and doubled my reach. I can't make 300 phone calls in a day, but I can send 300 text messages. It was a game-changer for our business."
Want more data on how to supercharge your staffing company's growth? Check out the complete State of Staffing Benchmarking Report.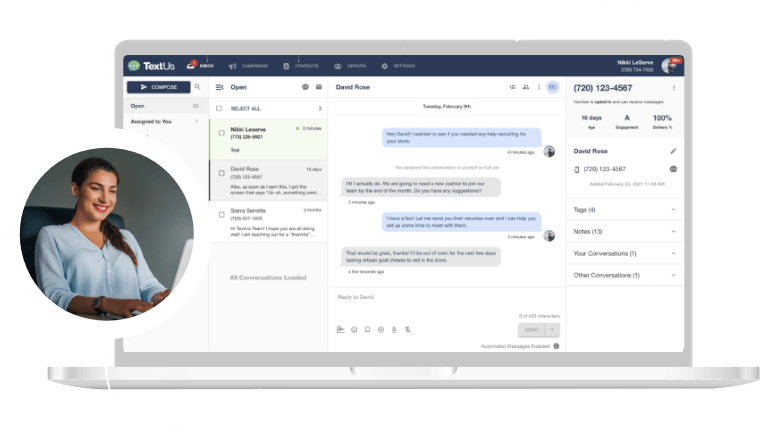 Get a TextUs Demo
Learn how thousands of businesses use TextUs everyday to communicate in real-time.