TextUs Extension v2.2: Import Groups of Contacts and Send Broadcast Messages [Product Update]
You can now Import Groups of contacts and send Broadcast Messages with the new

TextUs™ Extension v2.2!

We've updated our hugely popular Chrome Extension with some new powerful features and updates! Two of the most commonly requested features have been to Bulk Auto-Import Contacts and then send Group Broadcast Messages directly from the Chrome Extension.

Well, our development team was up for the challenge and has delivered!
[New Features] TextUs Extension v2.2:
Group Broadcast Messages

Bulk Contact Auto-Import

Import into New or Exisiting Groups

Message Personalization

Message Templates

Message Scheduling

---
[New] Send Group Broadcasts using with your Message Templates
Not only has it become easier to create and manage Groups within the TextUs Chrome Extension, but we've taken it one step further by adding the ability to send Group Broadcasts.
With access to your custom Message Templates and Personalization, you can send effective Broadcasts just like you would from the TextUs Web App. Manage all inbound responses to your Broadcasts directly from the Chrome Extension so you can continue your day without worrying about missing a response.
TextUs Knowledge Base: How to Send a Broadcast Message Within the TextUs Chrome Extension
---
[Update] Bulk Import Groups of Contacts
Gone are the days when you needed to select each Contact individually to add them into a Group. Using our one-click button, you can select up to 25 Contacts at a time, saving you time when adding to larger Groups.
[New] Import Contacts into Existing Groups
You can now add Contacts into Groups you've previously created. This keeps your TextUs account more organized and allows you to better manage your larger Groups before sending Broadcasts. You'll find all your Groups organized in the Groups area that is now accessible right from the TextUs Extension.
*Note: Within the TextUs Chrome Extension, you have access to remove the Group, but to delete Contacts, you will still need to head back over to your TextUs Web App.
TextUs Knowledge Base: How to Add Contacts to Groups
---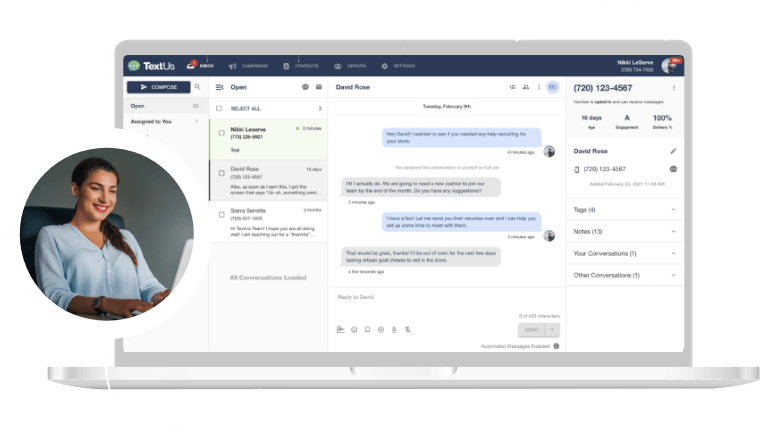 Get a TextUs Demo
Learn how thousands of businesses use TextUs everyday to communicate in real-time.