Property Management: How To Get Your College Tenants To Respond (Without Knocking On Their Door!)
Property management is an all day, every day job! From maintenance requests and tenants getting locked out of their apartments to managing the bills and rent, someone has to be available at all times. Most of these requests and questions come through a phone call or email. But what happens when you're renting to college students?
Most students have different hours than the standard 9-5 working adult. So if they just got off work from the restaurant at midnight and you've sent them an email that day to let them know of a showing the next morning, chances are they're not going to see that email. Students are constantly flooded with emails from school, so filtering through the information to see what's important and what's not isn't always as easy as it may seem.
So the next morning you arrive at their apartment ready to show the potential renter the fabulous home, and there's your tenant, asleep in their bed. Not only is the tenant now upset because they didn't know about the showing and they're missing out on valuable sleep, but your potential renter sees this experience as poor communication on the property management's part.
So what's the best way to reach your college tenants in an efficient and easy way? Send them a TEXT! If you were to walk onto a college campus right now, the majority of students walking around would be attached to their phones! Whether texting, talking, or browsing, cell phones have become the number one source of communication.
Sending a text message insures that the recipient will see your message right away and be able to respond immediately with any questions. Typing a text message takes no time. So whether your college tenant has a burst pipe or just needs to get in touch with you, they can quickly let you know. And if they're late on rent, you can get in touch… without needing to knock on their door!
Learn More: http://textus.biz/property-management/
Sign Up Now: Get Started for Free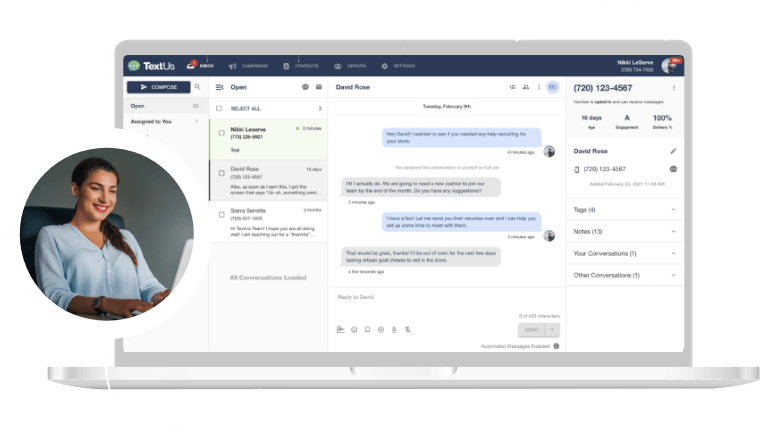 Get a TextUs Demo
Learn how thousands of businesses use TextUs everyday to communicate in real-time.