Recruiters: Are You in a Social Media Wormhole? Here's How to Get Out
We all know what it's like to fall into a social media wormhole and lose valuable time. While social media is a top recruiting tool, it's also one of the biggest culprits of wasting time at work. As a recruiter, do you have the tools to avoid the time suck? Here are some tips to stay productive on social media.
Focus your energies
Don't take on the entire internet. The internet will win.
Do your homework
Where is leading talent spending their time online? Focus on the two or three platforms where you're most likely to find your target candidates and avoid wasting time on the rest.
Stay relevant
Make sure you are on the pulse of your target talent's interests. Use tools like Mention, SproutSocial, and Brandwatch to monitor what topics are currently getting attention and tailor your messages to what's hot.
Strategize
If your social media strategy isn't focused, the time you spend on social media won't be either.
Make a plan
Make sure you have a comprehensive content calendar that incorporates regular posts to all your feeds. SocialFlow is a handy tool for predicting what time of day is best to post to your followers.
Automate, automate, automate
Using an automation system, such as HootSuite or Buffer, you can put your message out there without constantly interrupting workflow.
Create a daily social media schedule
Schedule regular times daily to check your social feeds – and really stick to it. This will help you keep in contact with prospective candidates without getting burnt out by being constantly logged in.
Analyze your metrics
Nothing says "time suck" like spending energy on blog posts, article shares, and calls to action and getting only crickets in response. You can make sure you're not chasing your tail by keeping tabs on your social media metrics.
Stop multitasking
Researchers at Stanford have shown that too much multitasking is associated with a drastically worse memory, a lower ability to switch between tasks, and a shorter attention span. They suggest that by doing less, you might accomplish more. Rather than doing everything at once, focus on one task and one platform at a time.
Take breaks
Studies show that taking regular breaks is the key to staying focused. Breaks increase productivity and creativity and help prevent the kind of fatigue that can lead you into a social media black hole. Timers such as Pomodoro, DeskTime, and Focus Booster help remind you to step away from your screen.
Want more tips on how to superpower your recruiting? Check out our 7 Habits of Highly Effective Recruiters.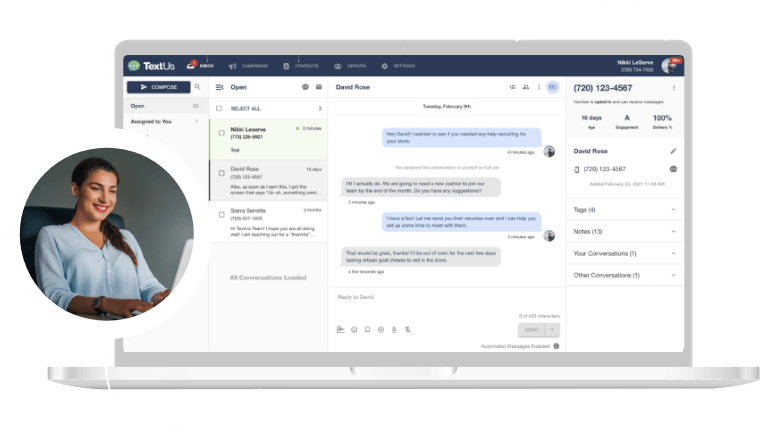 Get a TextUs Demo
Learn how thousands of businesses use TextUs everyday to communicate in real-time.