Text messaging for healthcare is simple and convenient
Easily import new contact information into TextUs, or text directly from your CRM, ATS or HRIS
Create groups to send broadcast messages to contact pools, like relevant job opportunities to nurses, or simply send two-way 1:1 messages
Easily determine your strongest performing message through A/B testing and pick the strongest version for future campaigns
Schedule messages to go out at specific times, like appointment confirmations or reminders
Enrich the Healthcare Text Messaging Experience
Add multimedia to your text messages, such as images, videos, GIFs, or PDFs with Campaigns Pro to send supporting information or simply capture your patients or workforce's attention. You can also test your messaging with our A/B testing tool to better understand what resonates with your audience.
Increase your Efficiency with SMS Automation
Seconds matter in healthcare. Use Keywords to generate automated text responses and provide your workforce and patients with on-demand information right when they need it.
Our platform will also automatically segment responses into keyword groups, so you can quickly and effectively follow-up with information related to their desired interests.
HIPAA Compliance and Healthcare SMS
While SMS cannot be fully guaranteed to be HIPAA-compliant, it's a good idea to look for business SMS providers that follow HIPAA-compliant best practices.
We highly encourage healthcare entities that utilize SMS to adhere to the same practices in communicating as they would with other mediums like email or phone. As with other industries that use text messaging, proper opt in management is critical and healthcare providers must ensure that patients have opted in to receive texts. Additionally, we recommend that if a provider needs to share sensitive information via text, to not do so within the message body, but rather share a link to a secure portal hosted on your own platform where this information resides securely. These best practices ensure healthcare entities can benefit from the real-time communication that SMS provides, while remaining HIPAA-compliant.
"We're seeing 80% engagement – receiving really good responses. I was thrilled that the staff had an easy way to get a hold of us, that we could respond easily and give them the information they wanted."
– Bruce Weinberg, Ochsner Health
Why Healthcare Providers Choose TextUs
Source Nurses Faster
Use group broadcast to send jobs to hundreds of nurses instantly.
Schedule Interviews Instantly
Text messaging healthcare talent gets a 98% read rate and a 40% response rate.
Send Secure Messages
TextUs is trusted by some of the largest healthcare providers in the world.
Communicate with Patients Faster
Send campaigns or 1:1 messages to provide a more efficient healthcare text messaging solution for your patients.
Track Communication Effectiveness
Track texting analytics to identify the best messaging.
Activate Passive Healthcare Providers
Text messaging gets passive candidates to respond more than emails and phone calls.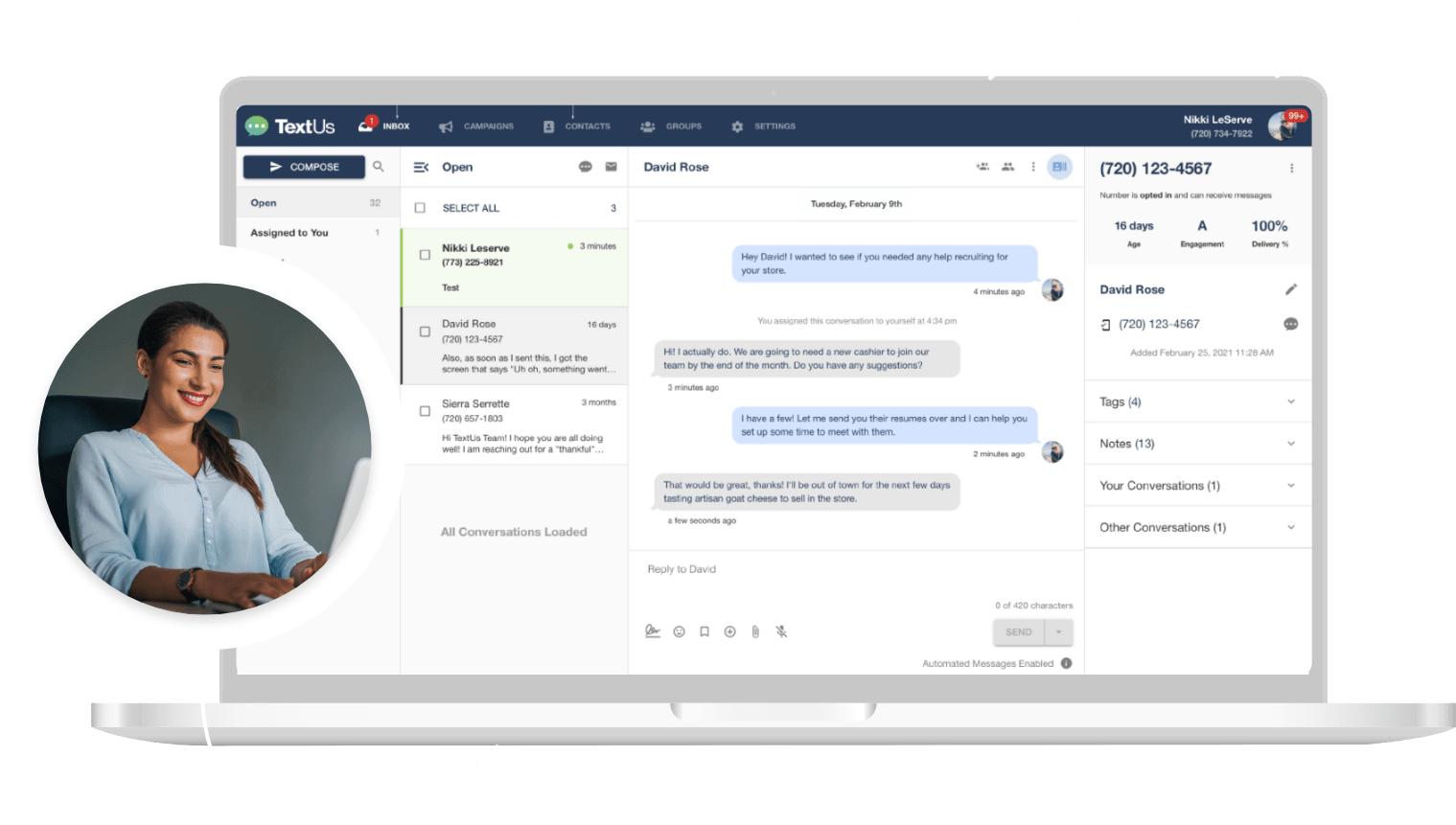 Get a TextUs Demo
Learn how thousands of healthcare facilities use TextUs everyday to communicate in real-time.