Import employee contact information
Schedule or send mass text messages to employees for important communications
Keep engagement high and respond to questions/concerns quickly
Continue building healthy company communication!
Engage your Employees
Enhance your text messages with rich media like images, videos, GIFs, or PDFs and drive higher engagement and better response rates with Campaigns Pro. Plus, our A/B testing tool will give you visibility into the types of messaging your employees are responding to most.
Create Automated Efficiency
Create keywords that trigger automated text message responses for opt-ins, welcome messages or company events with TextUs' Keywords. And we'll automatically create new keyword groups for you based on responses so you can easily follow up later with any important information.
Communicate Better Across the Candidate and Employee Journey
With TextUs, your HR team can quickly push out emergency messages for on campus employees, remind employees about upcoming events and holidays, and allows for a more open line of communication to create a more connected culture.
Text messaging for HR teams drives more efficient communication and keeps employees and vendors informed by reaching people where their response rates are highest- on their phones.
Why Human Resources Teams Choose TextUs
Talent Acquisition
Find top talent and hire more quickly with improved candidate response rates and interview scheduling.
Improve Engagement
With a 98% read rate, TextUs enables you drive employee engagement by communicating more effectively with your team.
Onboard Smarter
Onboard more efficiently and improve new hire communication with with text messaging.
Schedule Shifts
Stop losing time with unanswered emails. Schedule last-minute shift faster with text messaging.
Coordinate Crises
Speed is everything during an emergency. Use texting to coordinate instantly.
Drive Retention
Communicate with your employees by text message to create the open and connected company culture they want.
Workforce Management
Stop losing time with unanswered emails. Schedule last-minute shift work and adjust quickly to ensure fluctuations in forecasted staffing volume are met faster.
Schedule Interviews Instantly
Text messaging has a 98% read rate and a 40% response rate.
Track Texts in Your HCM
TextUs lets you capture messages in your human capital management database automatically.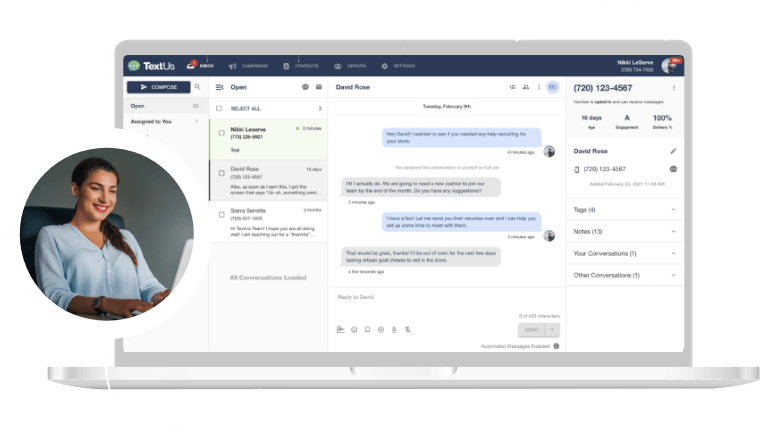 Get a TextUs Demo
Learn how other Human Resource departments use TextUs every day to communicate with employees, candidates and vendors in real-time.