Easily and quickly import new candidates from your Application Tracking System (ATS).
Create groups to send relevant job opportunities to candidates pools or simply send 1:1 messages to interested candidates
Be in communication at their fingertips. Exchange information and schedule meetings quickly
Create Engaging Texts
Add images, videos, GIFs, or PDFs to your text messages and stand out in your candidates' inboxes with Campaigns Pro. You can also test your messaging with our A/B testing tool to better understand what resonates with your candidates.
Increase your Efficiency with Automation
Create easy opt-ins and responses that automatically bucket your candidates into groups for easy follow-up with interested candidates, candidates who want to be followed up with later, or candidates who want to schedule an interview with Keywords.
Communicate 10x Faster
Break the barrier of not being able to quickly reach a large population of interested candidates.
Through texts, your team can communicate with candidates up to 10x faster compared phone or email. And in the increasingly competitive staffing industry, speed matters more than ever.
That's why over 800+ staffing firms use TextUs to accelerate their recruiting, sourcing, and onboarding. As the most popular texting solution for staffing and recruiting agencies, TextUs gives your team the capability to get ahold of more candidates than they could by phone or email alone.
"TextUs makes it a lot easier to just text right away, right from your desk. I save a lot of time every day."
– Shelly Richardson, Temp Talent
Improve Sourcing
Easy-to-use text recruiting software lets you instantly send jobs to 100s of candidates.
Schedule Interviews Instantly
Text talent to get a 98% read rate and a 40% response rate.
Track Everything in Your ATS
Integrate all of your text messages directly into your ATS.
Activate Passive Talent
Get passive candidates to respond.
Build Better Relationships
Communicate the way candidates want you to.
Track Recruiter Effectiveness
View all of your texting analytics to see which recruiters communicate most effectively.
Follow-up Faster
Get your message in front of talent faster than you can with email or a phone call.
Onboard Smarter
Get paperwork completed faster by communicating smarter.
Get Jobs in Top Talent's Hands Instantly
Use text to get your jobs to market faster.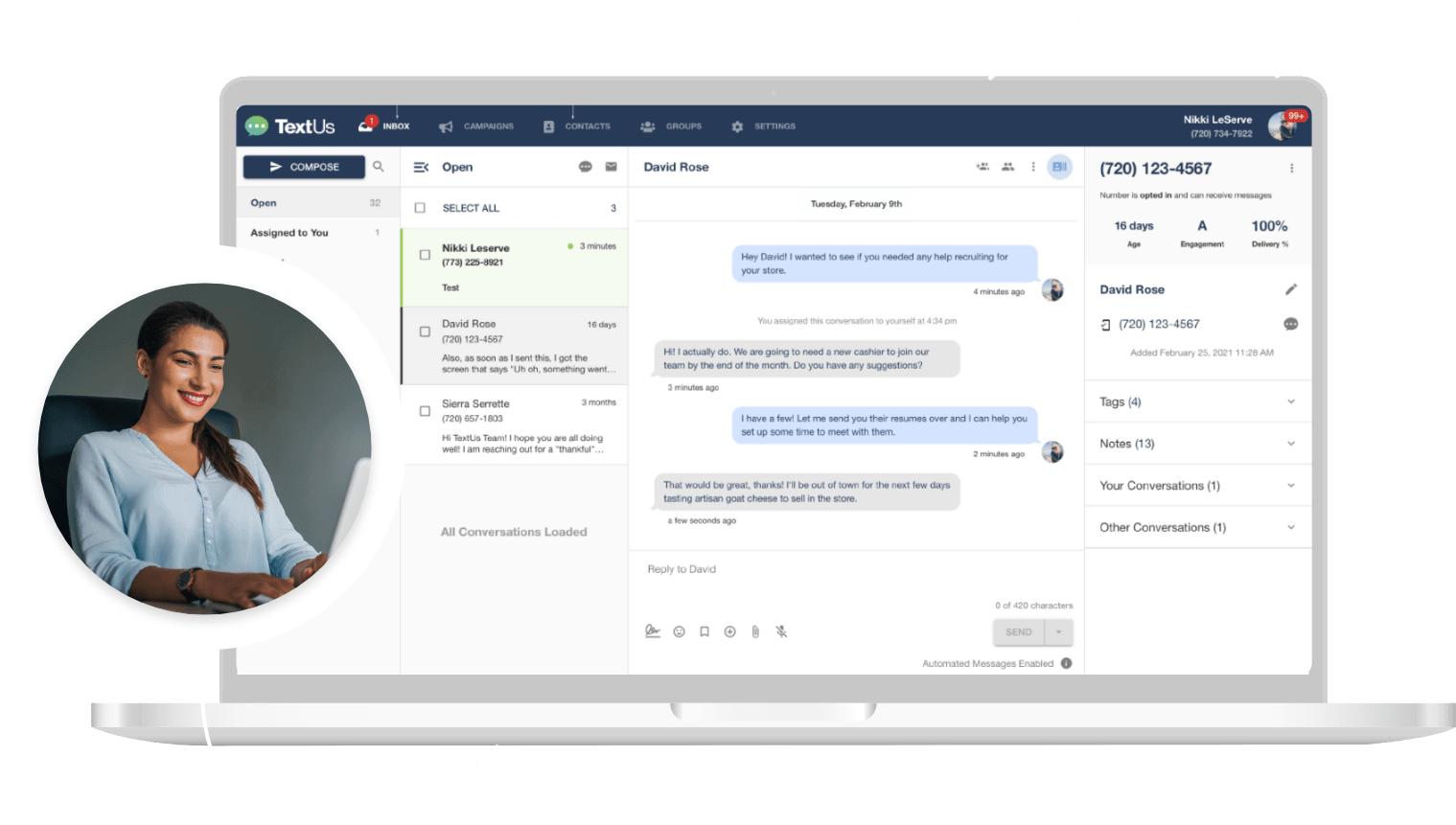 Get a TextUs Demo
Learn how thousands of staffing and recruiting agencies use TextUs every day to communicate in real-time.