Staffing & Recruiting Technologies: What's Hot for 2016
2016 will be the Year of the Candidate Experience. With a recovering job market and more Millennials entering the workforce, success will be all about providing a fast, engaging experience for candidates. The hottest technologies will meet these candidates where they are (on their phones, mostly) and give them the connection and ease they expect. Take a look at what's hot in staffing and recruiting for 2016.
Mobile optimization
90% of job seekers use mobile devices in their search. Yet, only 20% of leading recruiters have mobile optimized career sites. In 2016, to stay ahead of the curve, it's essential that all aspects of your staffing process – from talent-enticing content to online job applications – are mobile-optimized.
Sites that aren't mobile-friendly aren't just outmoded. They will lose you leads. A recent survey by market research firm Inavero found that 73% of seekers will leave a non-optimized site, and over half will develop a negative view of a company as a result. What's more, after a recent algorithm change, Google now favors mobile-optimized sites in its search results. So, to stay at the top of the heap, mobile optimization is the name of the game.
Here are some optimization tips:
Design for the small screen
Simplify! Use easy-to-read text that will show up in readable font on a mobile device. Use large, distinct images. Create short, informative content for talent on the go. bMobilized is a good tool for quickly revamping your existing website for smaller screens.
Streamline your application process
Mobile users are turned off by hefty online job applications that require a lot of clicks and fancy thumb-work. Nearly 40% of these mobile job seekers will fail to apply to a job because they don't have their resumes stored on their devices. To increase your talent pool, require only a few pieces of information, such as a social profile and contact information, and only a few clicks.
Be human
Mobile implies connected. The new generation of job seekers expects to be engaged and to be regularly informed of their status. "There's nothing more powerful than personal experience," Jed Hamilton, director of corporate communications at Jibe, says of the hiring process. "Provide feedback throughout. Be transparent about your process. Let candidates know what to expect."
Text messaging
Text messaging is a highly effective way to provide candidate engagement. A recent Entrepreneur article called text messaging "the new email in the hiring process."
Given that texting is the #1 activity folks do on their cellphones and that texts have a 98% response rate — usually within minutes of being read — text messaging has massive potential for recruiting.
Platforms like TextUs help streamline the text recruiting process. Check out our tips for effective business texting and useful text messaging templates, and explore our case studies to learn how text messaging improves response rates and increases placements.
Social recruiting
LinkedIn predicts major changes in social recruiting in 2016, including the possibility of widely integrating CVs into social media profiles. Social media recruiting found its footing in 2015, and in 2016, it's poised to really take off.
Social recruiting tools are especially useful for engaging passive candidates, those who may be interested in a career change but aren't actively seeking one. LinkedIn research indicates that 85% of people are passively interested in new opportunities.
The millions who are searching use a wide variety of social media platforms, but Facebook is the favorite. According to Jobvite's recent survey of over 2,100 jobseekers, 76% of candidates found their current position through Facebook.
Here's a look some of the strongest tools around:
Dating around
Finding the right chemistry between talent and company is not all that different from dating. Another trend that'll be hot in 2016 is a new crop of Tinder-like recruitment apps.
Switch

allows candidates and recruiters to anonymously "swipe right" on profiles that interest them. Users are connected only if they express mutual interest.

Jobr

follows a similar model but more with more transparency, sharing some revealing user data.
Predictive talent analytics
All of this mobile and social recruiting is going to generate — and be made better by — a deeper understanding of data. From small data (e.g., the demographics of who is reading your content) to Big Data (e.g., which passive candidates in your city have excessively long commutes and might be in the market for a closer job), predictive analytics gives your candidate search superpowers.
As Jennifer Boulanger, Director of Talent Acquisition at Opower, recently said: "Recruiters will become competitive intelligence to companies. Recruiters will know what is going to happen within companies and talent markets before it happens."
Predictive talent analytics can help recruiters:
Crawl data from job sites and social media profiles to find ideal candidates

Monitor talent behavior to predict optimal time for engagement

Help reduce turnovers by predicting the hires who will stick around

Adapt hiring policies and job descriptions to global trends

Gain deeper insight into applicant pools

Become proactive in hiring the best candidates

Forecast future workforce trends and needs
Last year, these analytics were an underused resource. The 2015 CareerBuilder CEO survey indicated that only 1 in 7 HR departments used analytics in hiring. The overwhelming majority of industry leaders think understanding data analytics is crucial to hiring. But over half of HR managers and recruiters rate their proficiency with data analytics as "poor" to "fair." With awareness growing but implementation still low, predictive analytics is positioned to become a much more meaningful recruiting tool in 2016.
So there you have it — our ideas about what technologies will shape staffing and recruiting this year. What are your predictions? Share them with us on Twitter, Facebook, and LinkedIn.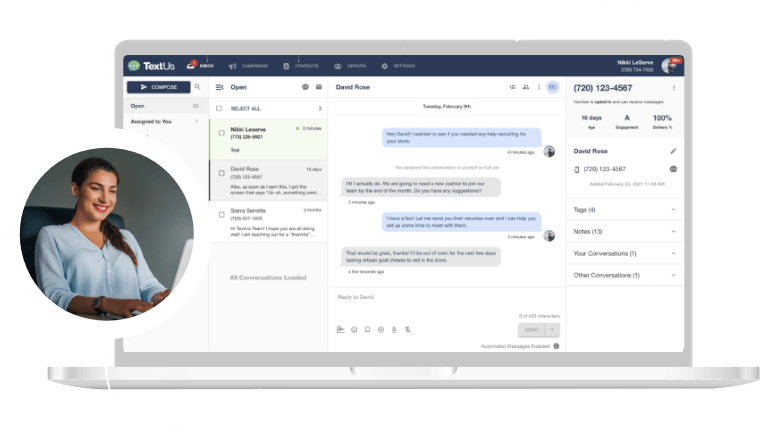 Get a TextUs Demo
Learn how thousands of businesses use TextUs everyday to communicate in real-time.