Inaugural StaffingHub Live Event, Sponsored by TextUs, Helps Staffing Firms Grow Faster
Last week, StaffingHub hosted their first event, StaffingHub Live, right in our backyard in Boulder, Colorado, at the Boulder Theater. Focused exclusively on staffing executives, the event brought together some of the top thinkers in the industry to dig into strategy and practical tips on how firms can scale faster.
Here are some highlights from the show.
Lunchmeat & Life Lessons: Succeeding in the People Business, Keynote by Mary B. Lucas of Supplemental Health Care
The show opened strong with a touching, powerful keynote by Supplemental Health Care's Chief Talent Officer, Mary B. Lucas. Mary is an industry veteran whose father, a butcher and motivational guide for his family and friends, instilled Mary with a lifetime of lessons that have helped her succeed in staffing, the people business. 
I was especially interested in Mary and her father's recipe for "Comeback Sauce." To get customers to keep coming back, Mary says it takes recognition, connection, and the unexpected. I realized that's the same mix we use at TextUs, framed a little differently: keep it human, keep it real, and always provide value.
Networking the New Way
StaffingHub built a show that's different from a lot of other staffing events. Though we started good conversations on the floor, some of the best opportunities for getting in touch with people were outside the theater: at the intense hike, the golf tournament, and the happy hours. 
After dinner, our CEO Ted Guggenheim brought in Sean Kelly, the lead singer of The Samples. This was another unconventional opportunity to deepen relationships: instead of a traditional performance, Sean invited the audience to join in and make requests, and the night ended with the room singing along with Sean.
Connecting with folks doesn't have to be a stuffy, formal affair. We were excited to see StaffingHub adding a bit more fun and realness into industry networking.
The "Text Us" Concierge
Speaking of connecting new ways, we also rolled out the TextUs Concierge, powered by TextUs Next, which allowed StaffingHub to make regular touchpoints with attendees and to answer their event questions in real-time. Attendees loved the personalized attention, and the StaffingHub team loved the boosted engagement.
The One and the Nine, Closing Keynote by Jake Wood
Part of working in the people business is doing good for other people. StaffingHub donated a portion of registration proceeds to Team Rubicon, a nonprofit that taps the skills of military veterans to provide disaster relief. They raised over $11,000! 
Jake Wood, CEO and co-founder of Team Rubicon, gave a game-changing closing keynote. He called for leaders to make the difficult hiring decisions and lead with love to create a fearless team of leaders.
We're proud to be a charter sponsor of StaffingHub Live, and we hope to see you there next year!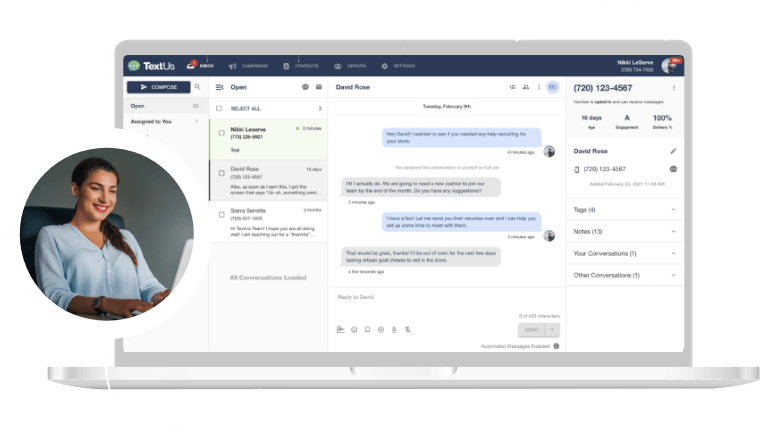 Get a TextUs Demo
Learn how thousands of businesses use TextUs everyday to communicate in real-time.