What is landline texting?
A text-enabled landline is a business phone number that has been enhanced with the ability to send and receive text messages, enabling you to use your existing phone number to engage with business stakeholders via SMS. Whether you're responding to customer inquiries, confirming appointments, or sending important updates, text-enabling your landline allows you to do it all with ease.
Text-to-landline technology uses a separate system for handling text messages, so there is no impact on the voice calling function.
Getting started is fast and easy
Text-enable your landline
Our team can text-enable your existing landline in just a few minutes while you continue to use your business phone number as usual.
Integrate with your CRM
Send and receive real-time, two-way text messages from your CRM, ATS or HRIS, or simply import your contacts into the TextUs platform.
Start texting
Start engaging in two-way, conversational texting right away. TextUs also offers broadcast, automated and MMS texting capabilities.
Track performance
See detailed analytics on your best performing messages, deliverability, response rates, and link clicks – so you can keep your focus on what drives the best ROI.
How businesses are using their text-enabled landlines
Staffing & Recruiting
Reach out to potential hires, schedule interviews and keep track of the hiring process.
Internal communication
Send important updates and reminders to employees.
Employee engagement
Communicate about holidays, regular updates and reminders about company events or training opportunities.
Sales
Communicate faster to accelerate your sales cycle and get dormant sales targets to respond instantly.
Shift management
Easily send out shift schedules to all of your employees and ensure the communication is seen.
Appointment reminders
Remind customers of appointments to help reduce no-shows.
Safety alerts
Send alerts and reminders to staff helping to ensure they follow safety procedures.
Dispatching
Dispatch drivers and vehicles to pick-up and delivery locations.
Event management
Coordinate and communicate with staff and drivers during events.
Why should you text-enable your landline?
Grow your ROI
Don't miss out on potential leads and revenue. 64% of consumers would prefer to text a business than call. Enable your landline to text and capture more business.
Improve Customer Experience
Meet customers on their preferred communication channel. 90% of consumers prefer to text with businesses, and 98% of text messages are read, compared to only 20% of emails.
Maximize productivity
Save time and increase efficiency by freeing up phone lines for more complex queries with landline texting. Businesses that use landline texting experience 40% shorter response times and a 35% increase in customer satisfaction.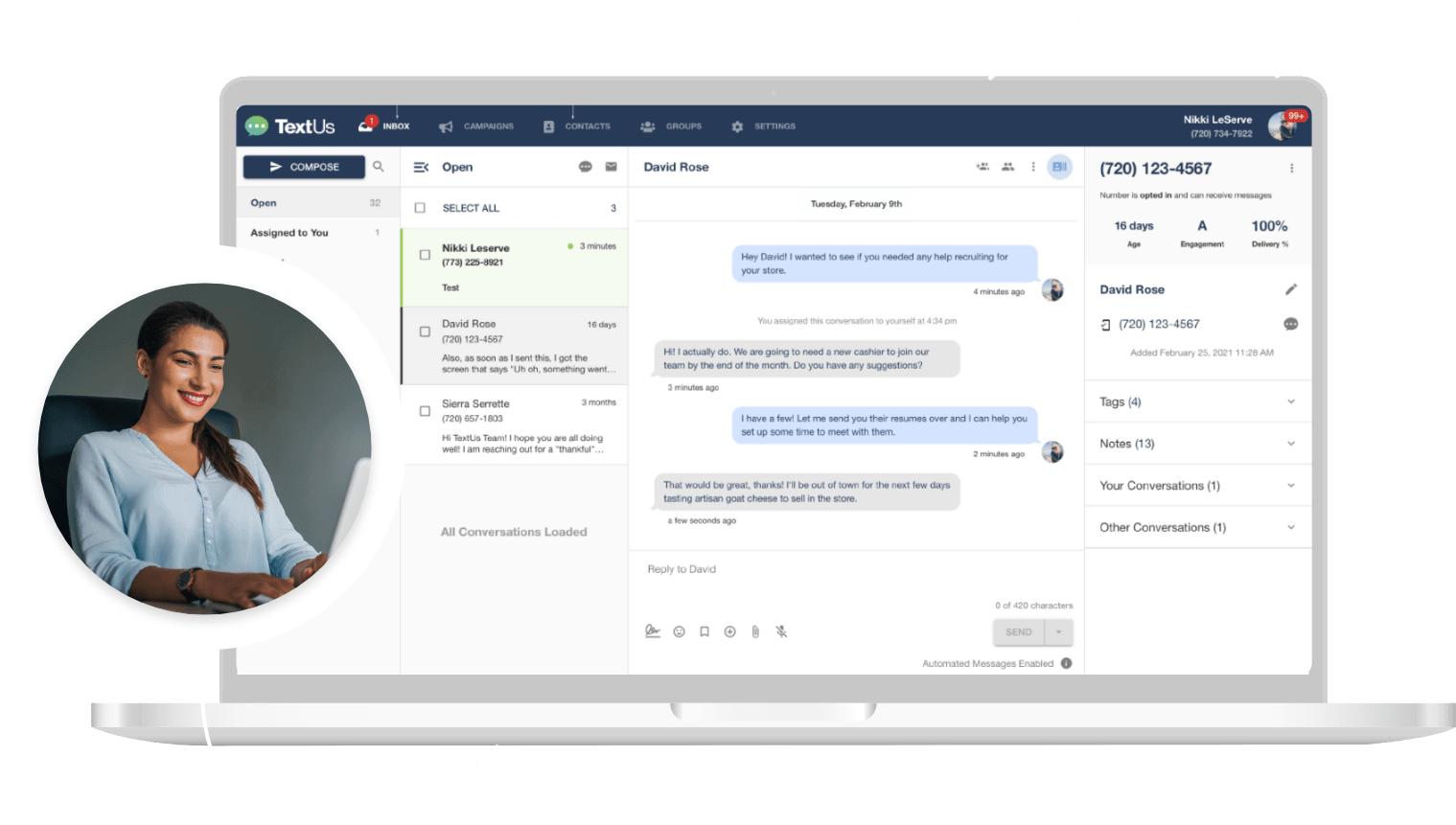 Get a TextUs Demo
Learn more about how to enable your business landline for texting and communicate in real-time.