Texting in 2021
TextUs Top 10
You may have seen or heard of Spotify Wrapped where the music streaming app lets you know which songs, artists, and genres you listened to most during the year.  It's a way to recap the year and look back at your trends.  Data also gives insightful projections and trends.
Recent data in the texting industry shows that business texting is a $4B market on a path to exceed $15B by 2028. With this projected growth, we looked into our own data to show you trends we saw both from our usage and content.
TextUs top five industries:
Financial services
Hospitals and healthcare
Real Estate
Schools and Education
Staffing
The top industries using TextUs found that conversational or personal texts had better results. The bulk of users also learned that 100 characters or less yielded the best response rates.  Those in financial services were still able to see a decent response when going up to 200 characters.  Anything over 200 characters saw dips in all industries.
We dug into our best performing content of 2021.  Here is our top 10 incase you missed something and what we think will carry over into the new year!
1. How market leaders are winning the war on voicemails
"Shoot me a text" may be the most popular phrase of 2021! This webinar helps leaders understand that playing phone tag and leaving voicemails is hurting their bottom line.  With higher response rates, texting lets you connect faster and easier with your audience.  This webinar identifies how to find the right mix of conversational vs. automation, gives stats for communication with customers vs. employees, and includes best practices for texting so you can get started today! Watch the webinar here .
2. Make conversations more engaging with text
Our infographic with the top 3 tips to engage via SMS will show you how to maximize your reach, increase productivity, and have authentic conversations.  People are more likely to have texting on their phone than email apps.  Did you know that the average user takes 90 minutes to respond to an email but only 90 seconds to respond to a text? The most effective texters have 14% fewer active conversations which allows them to  personalize better, resulting in a 3x better response rate. Read the infographic here .
3. 10DLC and making the texting industry spam-free
TextUs became a registered campaign service provider when 10DLC was first announced and we launched a webinar about it!  We are helping current customers register their brands and campaigns so that they can continue texting and not be penalized.  10DLC allows businesses to build trust and brand reputation with users, improves deliverability, increases throughput, and creates transparency.  This process eliminates short codes and sharing them so people will now recognize a number that resembles traditional phone numbers.  Learn more about 10DLC here.
4. TextUs secures $22MM Series C funding
This new investment will allow TextUs to accelerate our growth through increased product innovation and go-to-market expansion.  We are grateful for our investors, Eastside Partners and Access Venture Partners, who see the long term benefits of our partnership and product. This investment aligns with the projected business texting trends for upcoming years. We plan to hire for around 40 roles in the new year.  You can view open roles here.
5. Communicating on candidates' terms
We teamed up with one of our customers in staffing to deliver a webinar on how you can use texting to recruit and place candidates.  Some of the top challenges recruiters face are finding quality candidates, getting candidates to respond, and getting them on the phone.  Texting helps drive engaging conversations and has seen increased response rates over email and phone.  If you work in staffing, watch this webinar from our CEO and a staffing agency and find out how candidates want to be contacted.
6. Texting templates for home financing
One of our customers shared how they were able to move clients through the home financing journey with texting.  From setting up an initial call, to thanking a referral, to post-referral followup with a client, to texting with paperwork, to nudging and reminding, TextUs was able to sync with their CRM so that everyone could see messages in real-time. See the texting templates here.
7. Texting Do's and Don'ts
Need a quick cheat sheet for what to do and avoid in business texting? You're not alone! Our infographic provides a quick reference based on what we've seen work well from our own data. Find out how to plan, what type of content, how long a message should be, and more in our infographic.
8. How texting is rebuilding the retail industry
One of our e-commerce customers shared how TextUs was the first recommendation she made at a new company.  With texting, she was able to eliminate the phone tag game and efficiently recruit.  Instead of spending four hours trying to call and track people down, she could spend 30 minutes texting and receive replies within the hour. We also saw a greater trend in retail with texting help the industry hire, train, communicate, market, and provide quality customer service.  Learn how texting is rebuilding retail here.
9. TextUs launches Workday® integration
Integrations are a major component of tech companies. Our newest integration enables talent acquisition and HR teams to streamline their workflow by adding texting as a communications channel for Workday® users, improving engagement with candidates, expediting response times, reducing placement times, and enhancing the candidate experience during the recruiting cycle.  The integration will allow users to text directly from TextUs' easy-to-use Chrome extension slide-out and correspondence will be automatically logged with a date and time stamp within a Workday®  custom object field. Are you a Workday® user? Read about our integration here.
10. Quit texting from your personal phone
It's common to now only have one phone for both your business and personal use.  But have you ever considered the implications of texting from your personal phone?  What happens if you leave a job? Do you want to separate your work and personal life? Do you want to track the success of your messages? Do you really want strangers to have access to your personal number forever? Read our blog to find out why you should resolve to quit texting from your personal phone in the new year.
Right behind our top 10 pieces of content are three honorable mentions we want to highlight for you!
19 reasons HR leaders should use texting
If you work in HR, you won't want to miss how you could use texting in your everyday workflow.  You can use texting in a variety of ways including talent acquisition, onboarding, company culture improvement, workforce management, and improved ATS/CRM utilization.  Read the infographic to learn more here.
Sliding into messages is easier with TextUs
We believe in the user experience and providing a quality UX journey for our users. We listened to feedback and as a result of the UX process, we updated our Slideout feature this year.  The TextUs Next Slideout Chrome Extension is a tool that allows you to pull contact names and phone numbers directly from your CRM or ATS into TextUs. This is a lighter version of the Chrome Extension Pop Out and allows users to easily find numbers and maintain conversations without leaving your existing workflow or CRM/ATS. Discover all of the functionality here.
Why you should implement business SMS this year
We shared stats at the beginning of 2021 on why texting was trending upwards. As we come to the end of the year, we think these trends will continue.  Millennials and GenZ prefer to text and are straying from phone and email.  People are more connected to their phones than ever before and on average check their phones 262 times a day! Find out the other stats here and get a jump start on 2022.
TextUs and the industry had a wonderful year and we are wishing you and your company success in 2022.  Happy Holidays! You can book a demo for the new year here.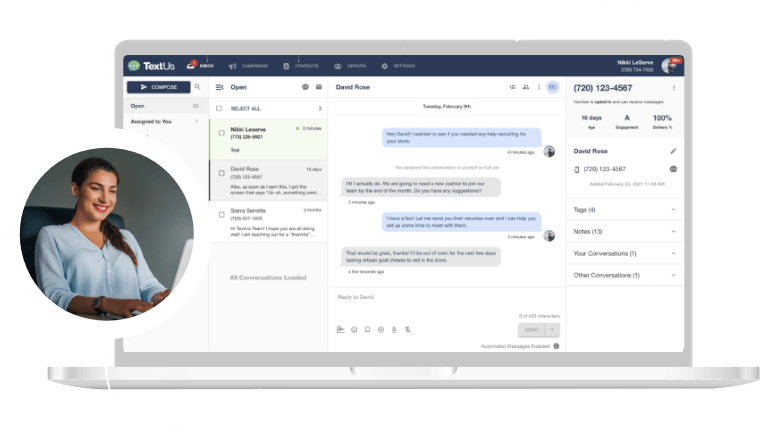 Get a TextUs Demo
Learn how thousands of businesses use TextUs everyday to communicate in real-time.