Texting, The Great Untapped Business Resource
While mobile and Internet technologies evolve at lightning speed, text messaging has barely changed in more than a decade — and the lost potential for businesses is huge.
Text messaging has come a long way in the past 20 years. The very first SMS, or text message, was sent on December 3, 1992 by software programmer Neil Papworth. He sent a message from his computer to the cell phone of a colleague at Vodafone. It said simply, "Merry Christmas."
While texting took off in the hands of tech-savvy tweens and millennials, it's worth noting that Papworth was working on solving a business problem–how to develop an internal paging system for employees at Vodafone. Today, 8 trillion text messages are sent every year, about 15 million texts every minute.
For many people, not just millennials, texting is considered just as meaningful as an actual phone conversation. Yet, while it's had a profound effect on the way we communicate in our personal lives, few companies use the text-messaging platform to its full business potential.
Texting can be a powerful means of communication for businesses. It can be used effectively as a tool for internal communications among staff, between employees and business partners. And most importantly, texting is a way of getting closer to and satisfying customer needs.
It's also important to consider the demographic shift that is taking place. The large size and purchasing power of the millennial generation, pegged at $170B (comScore), makes this a valuable market segment. But more importantly, having grown up in an all-digital world, sending 50-350 texts per week since middle school, their expectations for interaction mean organizations must be instantaneously responsive and highly personalized in communicating with this group.
Sure, many employees already communicate regularly via text at work to colleagues and customers. But often, they are using their personal mobile devices to text, which means they must reveal their personal mobile numbers. They also must have their customers' and colleagues' personal mobile numbers on their device in order to text them. Shouldn't there be a more efficient and professional way to text for business?
One of the main reasons texting is still not an official form of business communications is that the traditional business phone systems that most companies use do not have the flexibility to support SMS. However, as phone systems move to the cloud, the limitations of on-premise telephone systems can be redefined around business processes and customer preferences.
SMS can easily be integrated in cloud-based telephony systems, which mean employees can make phone calls, send faxes, and text–all within an integrated business phone system. They do not need to use their personal mobile device and they can separate their professional and personal identities while texting for work.
It's in the area of customer relations, engagement, and interaction that text messaging holds the greatest potential to solve a range of critical business issues. Yet, many businesses don't have a defined text messaging strategy, which will hold them back from capitalizing on this efficient and effective form of communication.
Smart organizations are developing a strategy for communicating via text messaging and other channels using multiple devices–from desk phones to mobile phones.
One example is Lyft, a San Francisco-based ridesharing startup known for its signature pink mustaches that community drivers put on the front of their cars.
Lyft started out with a decentralized phone system and employees used smartphones to make and receive calls and text messages. That system had two downsides: One, the company lacked an integrated face to the market because employees used personal phones and numbers. Two, applicant calls and texts were difficult to route on the fly and went unanswered or straight to voicemail when employees were not working.
A new cloud-based phone system with integrated voice, text, and fax gave Lyft the lift it needed to rapidly scale its business and achieve a higher level of service.
According to Adam Fishman, director of Growth and Operations for Lyft, "When we can't reach someone by phone, we find that sending them a text results in a greater response rate. Now with text integrated into our phone system, we are able to improve our response rates. It also makes us more professional because employees can text from their business numbers even though they are still using their own mobile devices."
Here's another example of how enterprises can leverage texting to better communicate with customers. Let's say you go to a national bank's website and text the company's 1-800 number to ask for their latest mortgage rates. Today, you will at best get an error message, but more likely your text will disappear into a black hole.
As more businesses adopt cloud-based phone solutions, you can imagine what this could mean for bigger businesses such as banks, retail stores, and even franchises. As a consumer, you could be able to text a bank's 1-800 number and have a broker respond to your mortgage rate query or see if they are processing your loan. In turn, the broker could internally send a text to his loan processing department to make sure they got your loan documents and are processing them.
And there are many more examples. When you want to know if a retail store has a certain pair of shoes, you could text their number and get a response from a sales clerk. Or imagine the possibilities for restaurants that enable customers to text the business number on their website for text-ahead seating and reservations.
The integration of texting into a business phone system is just the tip of the iceberg. In the future, you will see the common desk phone transformed into a dynamic, touch-screen tablet that integrates text messaging along with video, social media, and leading cloud services such as Salesforce, Google, and Box. And this touch-screen desk phone will be one of many connected mobile devices that employees use to seamlessly communicate with customers and colleagues, wherever they are, however they want.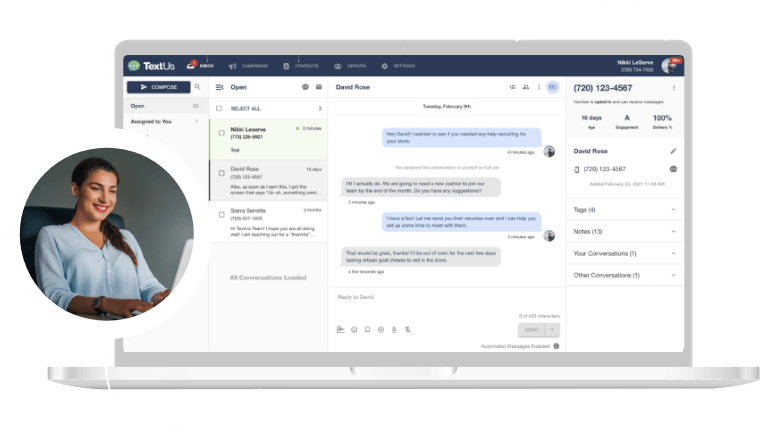 Get a TextUs Demo
Learn how thousands of businesses use TextUs everyday to communicate in real-time.