TextUs Update: New Release & Features
New Auto-Reverse Number Lookup, Notifications and "STOP" to Opt-Out
New In-App TextUs Notifications
With all the great user feedback and updates we've been making to the TextUs platform, we needed a place to keep you up-to-date!  The new TextUs in-app notifications are where you can find all app updates and new feature announcements.
Auto Lookup Numbers in the TextUs Chrome Extension
One of the most common requests we received with our new TextUs Chrome Extension was the ability to automatically lookup the numbers without needing to click the magnifying glass first. We're happy to announce that our team of developers made it happen! Now, when you click "Phone Numbers on Page" or "Search Current Page," the TextUs Chrome Extension will automatically tell you whether the phone number is a mobile phone or landline number, saving you even more time!
Broadcasts Now Removed from Messages Tab

Broadcast Messaging allows you to send messages to up to 250 contacts at a time. Before, when you sent a broadcast, your Messages tab was filled with broadcast messages, which would push all your other conversations lower on the list. Now, when you send a Broadcast your current messages remain at the top of your Messages tab for easy access.
Text "STOP" to Opt-Out
The latest update includes a shortcut to opt contacts out of receiving messages! If any contact responds to you with the text message "Stop," they will be automatically opted out. Keep in mind that the message must only include the word "stop" in order for automatic opt out to be successful (for example, "please stop" or "stop messages" will not have the same result). Once opted-out, the same restrictions apply as if you had manually selected this option yourself.

Message Delivery Status Feedback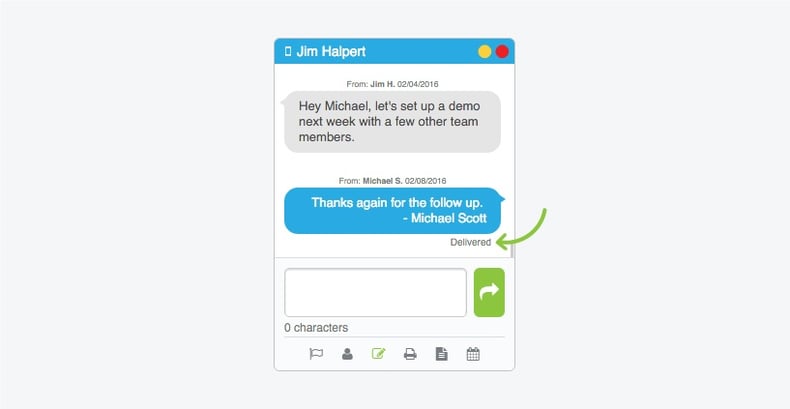 One of the most commonly requested feature updates we've received is the ability to see when a message has been delivered. Well, we're happy to announce that you will now see a delivery status underneath your most recent sent messages in your chat windows! Delivered messages will show up as either blue (individual messages) or purple (group broadcasts) and will say "Delivered" below. You'll also be aware of any messages that were not successfully delivered, as they will show up read and say "Not Delivered" below.
Have any questions?  We're here to help!
You can Text Us at 303-442-3223, or Email Support@TextUs.com. You can also visit our Support Center to view our step-by-step guides and videos. 
Thank you!
– The TextUs Team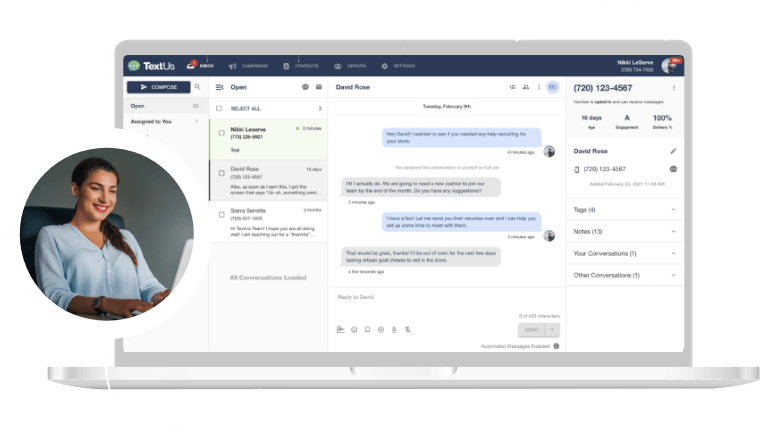 Get a TextUs Demo
Learn how thousands of businesses use TextUs everyday to communicate in real-time.