What Does It Mean To Be A "Text Friendly" Business?
With text messaging becoming one of the most widely used forms of communication, trends are pushing towards a more "Text Friendly" world. But what exactly does it mean to be "Text Friendly"? Many systems provide businesses the ability to send out mass text broadcasts – group messages sent from the business directly to their consumers' mobile phones from a five digit number (these are called shortcodes). But what happens if the consumer wants to respond? Say, they have a question or need clarification, want to learn more or simply want to say "thank you"! By restricting the conversation, customers are left without a voice.
Why not allow your customers to send you a text message back?
Being a "Text Friendly" Business should be more than a one-sided conversation from you to your customers. They want to respond, engage, ask questions and feel like they're being heard! Text enabling your business landline with TextUs.Biz will allow you to have two-way conversations with your consumers – you can text them and they can text you back!
Text messaging has become a more convenient form of conversation. No matter how busy your customers' lives are these days, they'll be able to get in touch with you on their time! Becoming "Text Friendly" enhances your customer experience and makes your business accessible.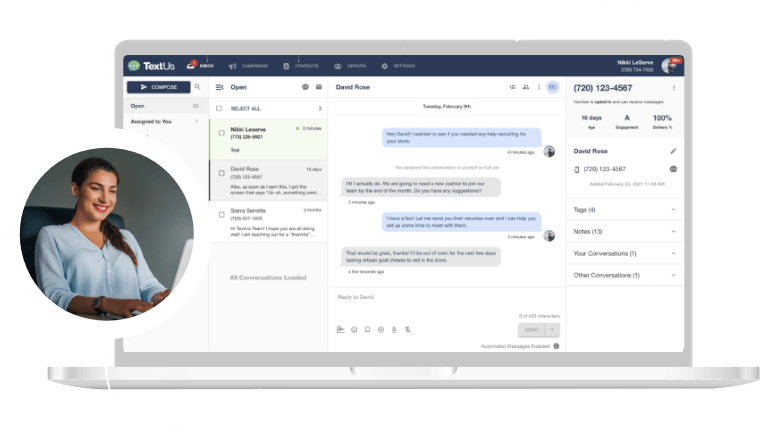 Get a TextUs Demo
Learn how thousands of businesses use TextUs everyday to communicate in real-time.